PLUG is a 0 (read my previous blog) … but apparently somebody needs higher prices to get out.
A suspicious Investor would think HUDSON BAY CAPITAL MANAGEMENT needs higher PLUG prices to unload 20m+ Shares!!
Jan 30, (out of the Blue) Hudson Bay Capital Management filed a 13G disclosing a 9.99% passive Stake (20,045,670 Shares) in PLUG. Common sense dictates that Hudson Bay Capital Management acquired its "stake/interest in the Company" during the December 19, 2016 "Common Stock Offering" and "Preferred Stock Offering"(taking the vast majority of it).

In these types of deals, HUDSON BAY CAPITAL MANAGEMENT is not a Value Investor. In these deals, they usually just flip the Stocks into the Public Market for a nice "almost risk Free" Profit.
Hence, the reason driving the recent pumping PRs issued by PLUG becomes clear in my mind: PLUG wants to please HUDSON BAY CAPITAL MANAGEMENT for absorbing the Offering (backing the underwriter) … in the hope HUDSON BAY will be there for future Offerings (Trust me … PLUG needs way more cash in coming quarters).
The 2 meaningless Plug Press Releases that caused the Stock Price to jump 50% in 3 days:
Shipments touted in Feb 08 Press Release are just Meaningless and no neews, according to the Earnings Call they were even Expected for Q4 of last year

Feb 10, PLUG announced "Conference Call on February 24, 2017 to Discuss Preliminary 2016 Results and 2017 Growth Plans". No details were given in this PR. Had Q4 2016 results been above expectations, PLUG would probably have bragged about it in the PR.
Are these 2 pieces of news worth a 56% jump (from $0.83 to $1.30) in PLUG Stock Price? Absolutely not. But, they definitely helped fueling speculations and caused a Short-Squeeze!
Use your common sense to guess who has been behind the PLUG Price Action over that past few days. EHEHEH
When PLUG was trading at $1.40 last December, I wrote a Blog Post stating how "Bankruptcy" was the most likely outcome for this Company. Stock went down 40% in the following 6 weeks.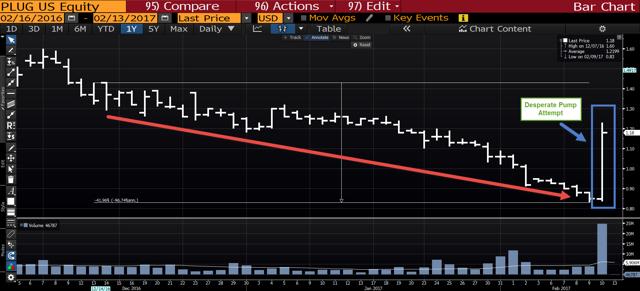 Expect it to trend lower and lower … while Hudson Bay Capital Management unloads to Gullible Retail Investors the 20m Shares they "(should) want" to unload.
NOBODY LIKES GARBAGE AT HOME … … AND PLUG IS NOTHING MORE THAN GARBAGE(Economically Speaking):
I bet HUDSON BAY CAPITAL just wants to get rid of PLUG
Disclosure: I am/we are short PLUG.