Facts and Only Facts! I am just reporting the news that appeared on German Media over the last 4-5 dayse ... on here.
German Media Reported last week that: "The ROB Cemtrex Group is expected to close the Paderborn plant by the end of October 2017. The ROB Cemtrex Group had only taken over the Paderborn plant last year following Periscope's insolvency."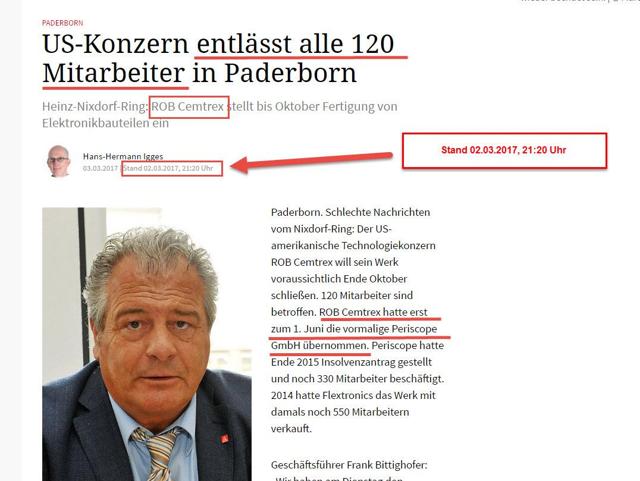 Source: NEUE WESTFAELISCHE
Read the Full Sory and my Analysis here:
http://unemon.com/ResearchEasy/201703_CETX/20170306_CETX.html
PS: If you do not like to read my opinion ... just do not click on the link. SOME PEOPLE SAY I AM BIASED. So, Just stick to the FACTS reported by the GERMAN MEDIA last week ... and ASK yourseld why U.S. investors have not been made aware of these developments yet!
MULTIPLE LOCAL NEWSPAPERS REPORTING THE NEWS:
ROB Cemtrex to close Paderborn factory
IT-Werk macht in Paderborn dicht
http://www.westfalen-blatt.de/OWL/Lokales/Kreis-Paderborn/Paderborn/2726559-125-Mitarbeiter-verlieren-ihren-Arbeitsplatz-IT-Werk-macht-in-Paderborn-dicht
US-Konzern entlässt alle 120 Mitarbeiter in Paderborn
http://www.nw.de/lokal/kreis_paderborn/paderborn/paderborn/21708958_US-Konzern-entlaesst-alle-120-Mitarbeiter-in-Paderborn.html