These research notes are based on recent material events that USANA Health Sciences ("the company" / "USNA") failed to disclose to the public.
YOU CAN READ THE FULL 28 PAGES STORY HERE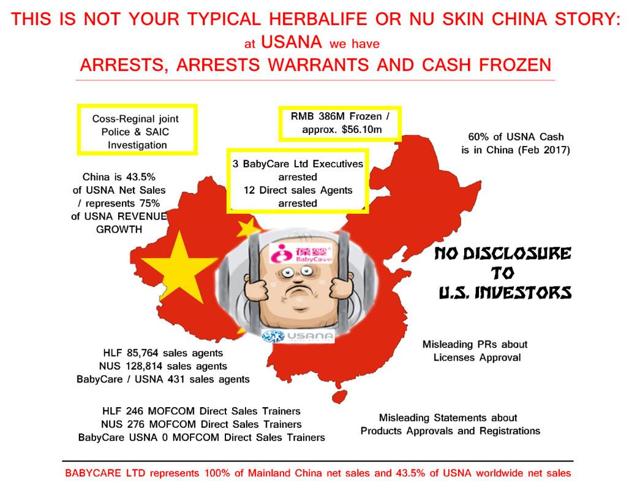 - In the first part: The SAIC and Police joint-investigation as well as the resulting arrests will be presented. In addition, it will emerge how RMB 386m (56.1m) of accounts have been frozen. Furthermore, the whereabouts of BabyCare Ltd President Mr. Liu will be questioned.
- In the second part: I illustrate why I believe USNA's key subsidiary, BabyCare Ltd, is violating numerous MLM laws in China. In short, BabyCare is operating illegally in China. More so than any other US listed MLM (HLF, NUS), USNA is overwhelmingly dependent upon China for its revenues and future growth.
LINK: http://unemon.com/ResearchEasy/201704_USNA/20170427_USNA_Public.html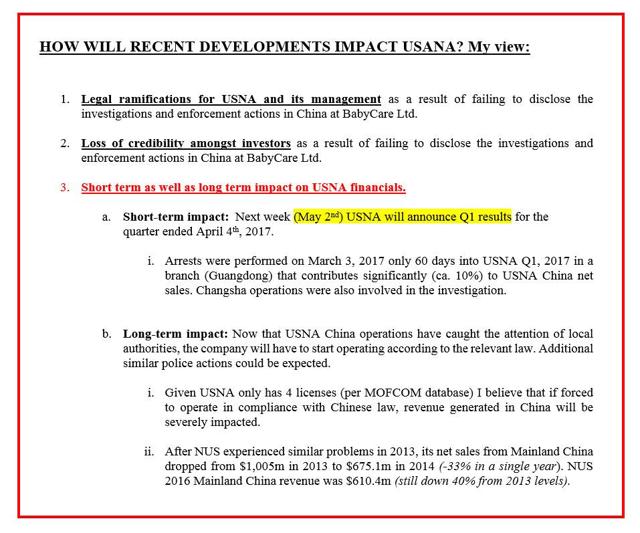 Link to the Articles:
webcache.googleusercontent.com/search?q=...
www.dspinglun.com/content/?3704.html
Disclosure: I am/we are short USNA.