Despite EROS CEO saying "'Absolutely no question of a liquidity crisis' ", lots of evidence pointing to the contrary has been presented to (Link1, Link2, Link3). 
As a market participant, I do find quite concerning the fact that:
Despite EROS not being able to repay the off-shore Credit Facility expiring in January 2017 on time ... 
... despite EROS need to liquidate in the "open market" shares of its major revenue generating subsidiary (Co raised approx. from the sale $20sh million) ... 
... despite the need to pledge shares of its major revenue generating subsidiary to what seem to be 2nd tier Indian lenders ... 
... A SUBSIDIARY OF EROS IS SPENDING APPROX. $8.65 MILION TO BUY A OFFICE PROPERTY FROM INSIDERS.  This becomes more interesting when we consider the fact that for the year ended 31 March 2016  EROS INTERNATIONAL FILMS PRIVATE LIMITED had revenue of just $548,157 (Rs 34,259,818), total cash and bank balances of $2.2 million (INR 13,84,79,629)
My personal view is: "A company that can't honor its debts on time ... and engages in dilutive transactions for US shareholders ... IMO ... shouldn't be buying personal assets for millions from insiders - EROS is doing just that!"
HERE IS THE PROOF: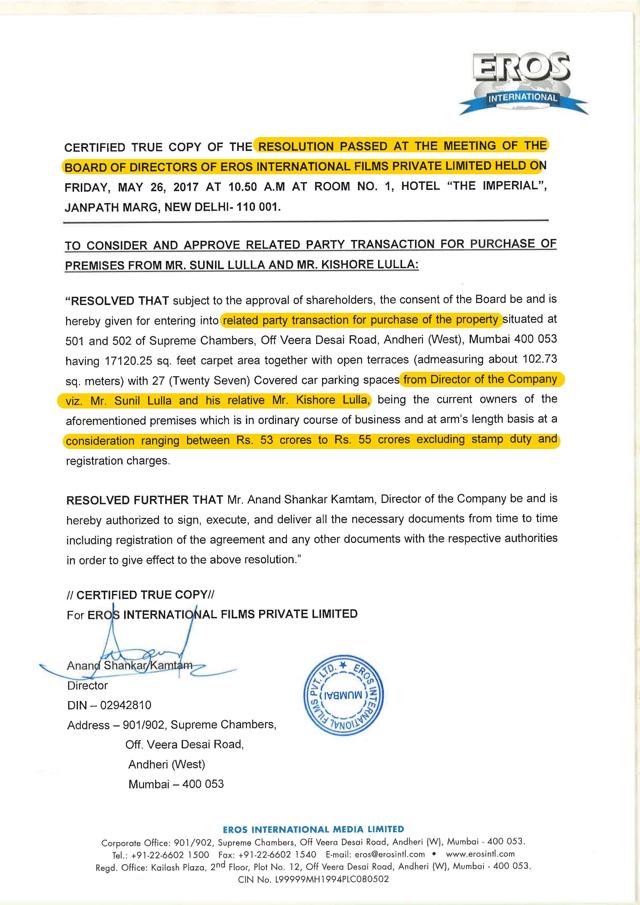 List of EROS Subsidiaries:  https://www.sec.gov/Archives/edgar/data/1532981/000117152016000992/ex8-1.htm 
Is this property the registered address of EROS INTERNATIONAL MEDIA LIMITED? 
901/902, Supreme Chambers, 
Off. Veera Desai Road,
City: Mumbai
Disclosure: I am/we are short EROS.