Stock markets are very popular at the moment as those on the sidelines have missed out on meaningful gains over the past two years. The valuations from a CAPE perspective (at roughly 23X) look expensive while stocks appear overbought. HFT machines, like trend followers, don't want to be long during a sell off, and once the tide turns investors must prepare for the possibility of lower stock prices regardless of forward PE ratios. When the markets begin discounting the end of QE, stocks could have problems even if earnings come in better than expected. Several stocks appear undervalued here, but the average equity in the Russell or Nasdaq are likely overvalued by a significant amount right now.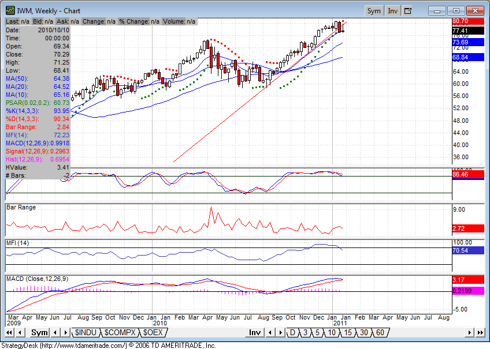 As you can see, the Russell is showing major technical problems, but the overvaluation is much more important for investors to research going forward. Here are some names which look downright expensive right now:

SFSF -- Successfactors looks vulnerable at 260X forward earnings. Meanwhile, historical operating losses should make investors nervous regardless of the story behind the rise in price.

DDS -- Dillards was a $4 stock two years ago, and now trades for over $40 with plenty of risk at 20X earnings and a sizable premium to book value.

TZOO -- Travezoo trades for 50 times earnings with just over 10% revenue growth historically with little to no earnings growth over past few years in aggregate.

QPSA -- Quepasa is a company with 500K in cash, very little book value, and a 230MM market cap. Maybe, they are the Facebook of Latin America or maybe Facebook is the next Facebook of Latin America. At any rate, don't buy this one with the kids college funds just yet.

IWF -- The Russell 2000 Growth is like the IWM only more overvalued.

QLD -- The double short QQQQ is only a good short if Apple heads lower. Due to the tragic Steve Jobs news, a sell off could happen despite a fairly reasonable forward multiple and an amazing growth historical growth rate.

TYH -- The tripled leveraged Russell 1000 Technology index has gone vertical and is due for a serious and painful pullback, in my opinion. Will it happen? I think it's a strong possibility that the markets are toppy here, but a crash is in no way guaranteed in the short run. Use this index fund as a hedge and not as a directional bet.

UUP -- The US dollar looks very weak under $80 which has been a floor for the Dollar for decades. Retail futures traders are incredibly bullish on the Dollar which is another reason to consider shorting this or at least buying some commodity exposure as a "long hedge" against short positions.

CMG -- Chipotle is not a cheap stock and with food costs rising margin pressure will likely play a bigger role in the stock's performance in 2011. Shorting the June $250 calls seems like a much better play here than going outright short on the common stock. 

OPEN -- Opentable.com trades for 130X earnings, 70X forward earnings, and operates in a market that is finite and facing margin compression from QE's food inflation ramp up (note that the Egyptians are proof of this trend).

DAL -- Delta has around 10 billion of debt to pay off, and the Airlines face huge problems with higher fuel costs and pricing pressures from Priceline, Travelzoo, etc...

WMG -- Warner has a huge debt burden and billions in negative equity to pay off while the music business was crushed by the advent of the internet download. The buyout pump was actually part of WMG's bid for EMI -- so the stock should have actually been dumped due to this increase in leverage into a seemingly dying business vertical. WMG may step into new media and save the day, so stay nimble and sell calls instead of shorting the stock.

-------------------------------------------------------------------------------------------

The first day of each month usually tends to be an up day, so make sure you watch your risk before committing capital to the short side on Tuesday. With that said, the fundamentals do not appear robust enough for TZOO to be worth 400% more than it was a year ago and the same can be said of SFSF, CRM, OPEN, IWM, TYH, etc...

Disclosure: I am short IWM, IWF, CMG, OPEN, DDS, TZOO, QLD, TYH, SFSF.