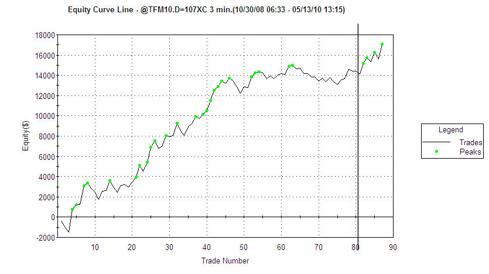 After two days of intensive effort, I was finally able to produce a new system to capture a tricky, but repetitive, market scenario in intra-day futures trading I'd seen more than a few times.
I named it "Solid Long" and above is its equity curve in TF (Russell index) for the past 400 days.  The bar to the right is the cutoff for the data it was tuned on, to the left is walk-backward results. 
This is for 1 contract, with $15 commission/slippage per trade.  Each trade is simply 1 contract, no money mgt. 
I was extremely pleased to solve this as it has been bothering me for some time that I really did not have a good system for this scenario.
I also ran it under the EMD (SP400 futures) and it produced an even better chart, although with more trades: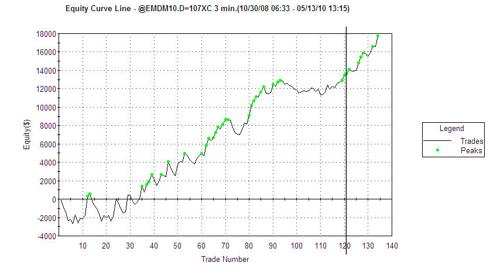 With that, I think I've got systems covering all the major repetitive scenarios on the long side.  Solid Long is now live and ready to trade as of now. 
Currently, I have 6 systems on the long side, and 1 short system running live. 
For comparison, I have probably written over 300 systems this past year...so you can see that most don't pass all the backtesting, and thats why I was so pleased to finally have this one work out to capture the scenario I'd been after for some time.
My next project is to work on some additional short side systems, and also start investigating improved money management to further improve returns.
I'll start posting a few screen shots from various trades in one of the upcoming posts as well.