Last Thursday we were talking about the bullish Usd/Chf set-up, based on the lower S/P futures expectations. Since then the S/P fell more than 50 points already and found the recent lows around 1119 zone as an upward correction completed at 1174 region. As expected, the U.S. dollar was pushed higher significantly against the majors over the past few days with U.S. dollar index reached the 87.00 level. As such, our Usd/Chf was pulled higher for around 350 pips, where traders may book profits or pull the stops higher.
Technically speaking, the markets traded into an extreme overbought and oversold regions over the past few trading days from where some pull-backs are expected to be seen.  From an Elliott Wave perspective we can count clear five waves down on the S/P from the recent 1174 top , which confirms a temporary, larger bearish S/P trend, as this five wave move is a part of some larger bearish structure.
After the 1119 low was established within a black wave 5, market reversed quite powerfully from the lows, which suggests that a red wave 1) decline is finished and that now a corrective wave 2) is underway.  A current bullish reversal is also confirmed by a divergence shown on the 30min S/P chart. And that's not all! In fact we can count five waves up from 1119 region on the 5min chart (not shown) which also confirms a near term bullish trend. A three wave A-B-C move towards the 1150 region (61.8% retracement) is expected. This kind of S/P structure definitely does not suggest for any U.S. dollar strength in the near term. So if you are still placed on dollar Long trade close some % and trail your stops lower.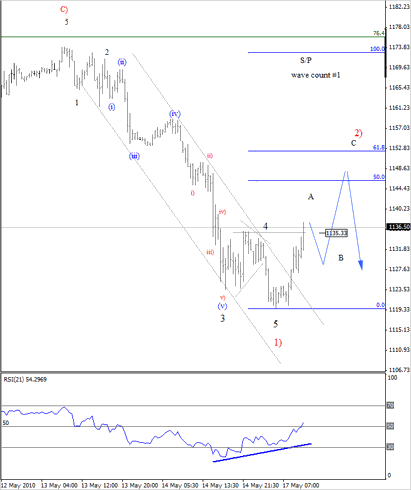 With this being said, our Usd/Chf from the past week should slowly move lower in the near term, based on that bullish S/P outlook.  The prices have moved already 350 pips higher since our past update and are showing an extended wave (iii) structure that reached the 161.8% Fibonacci extension levels.  Extended wave is shown when you can count five waves within a larger wave that traveled quite huge distance in a short period of time.   From that point of view, a corrective decline is definitely expected which should be seen in a blue wave (iv). Wave four usually retraces into the same territory of a previous wave four degree. In our case this region is shown between 1.1260 and 1.1330 region. 
Overall, a bearish U.S. dollar is likely to be the case over the next session or two, or we will probably see at least choppy corrective moves. However, we need to wait on a completed S/P upward correction before we can look for Long dollar and Japanese yen opportunities again.  For updates follow me on http://twitter.com/gregahorvatfx .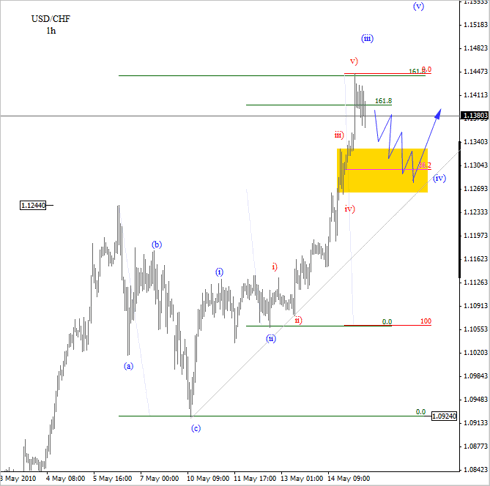 Disclosure:
no pos.