-updates on twitter
-for free Elliott Wave neswletter send an e-mail on trader@trading-fx.com


Hello traders!

The S&P 500 (cash market) moved higher on Thursday very close to our 1105 resistance region I pointed out several times in the past newsletters.  However, I did not want to rush with Short Aud/Usd trade, and as such I rather waited on more price action before I pulled the trigger. In fact, I wanted to see a wave structure that will confirm my bearish bias for Aud/Usd.
Just before the Wall Street session got underway on Friday, I came out with an ending diagonal and a potential top in place at 0.8549. Ending diagonal always took place just before the significant change in trend appears. So I took a shot and jumped in at 0.8490 with stops at 0.8610. As you can see on the chart, I planned to trail my stops to 0.8500 once the 0.8435 was reached. Well, because of the wave count that has developed till the end of the U.S. sessions I decided to pull my stops only to 0.8565 region, just above the highs.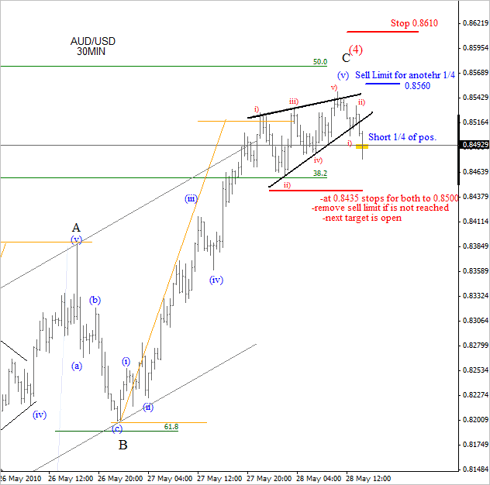 The main reason for a change in plan was a 5min wave structure, where a first impulsive decline has already bottomed (blue wave (i)), which should be a part of some lager bearish structure. If that is the case, then pair is now trading only in a corrective mode (blue wave (ii)), which may easily move above 0.8500 region but MUST NOT trade above the 0.8549 high for a wave count to remain valid.
My stops for a current position are now at 0.8565, and I am ready to put another part of position on work today; depends on the possible gap and the price action.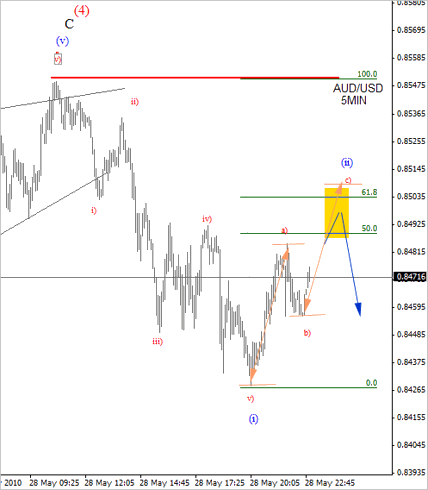 S&P 500
The S&P 500 looks bearish now, since an upward correction found the top at 1103, and bounced lower from 200 Day SMA. The stock prices also turned powerfully to the down-side in the last minutes of the Fridays session, which may drive the Asian stocks also lower today and potentially the U.S. dollar higher.
A break below the 1064 wave B support region in the coming week will put huge bears into play.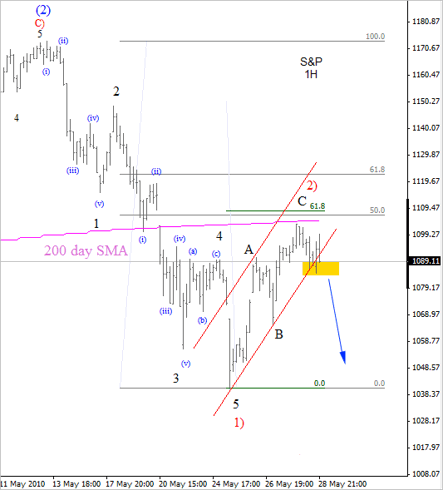 Dollar Index: More bulls to come!

The choppy price action on dollar index definitely suggests that a bull market is not finished yet. Since May 19th, when the 87.46 region was reached for the first time, the market has came out with three A-B-C legs, where all three are showing a sub-wave corrective form. As such, I believe there is more strength to come while the market trades above 85.14 support.

If I am correct, then Aud/Usd should be showing a significant weakness over the coming days.

-updates on twitter
-for free Elliott Wave neswletter send an e-mail on trader@trading-fx.com
Disclosure:
Long dollar, Short stocks