-updates on twitter
-for free Elliott Wave neswletter send an e-mail on trader@trading-fx.com

Dollar Index


Hello traders!
In the past update I said that the structure on 1h U.S. dollar index chart looks corrective and more strength is expected. On Monday the price action was very calm because of the Bank Holiday in U.S. but we have seen a bullish dollar breakout today when European session got underway.
The updated wave count on the right shows a completed triangle formation in place with a recent wave E low at 86.44 region. Since then the prices became very bullish which looks like a new impulse wave underway especially as the market also moved above the 87.46 already.  If I am on the right track then a red wave 5) is now in process, which remains in play for as long as the prices are trading above the end of a red wave 4). With this being said, I will look for Long U.S. dollar opportunities against the other major currencies as long that support holds!!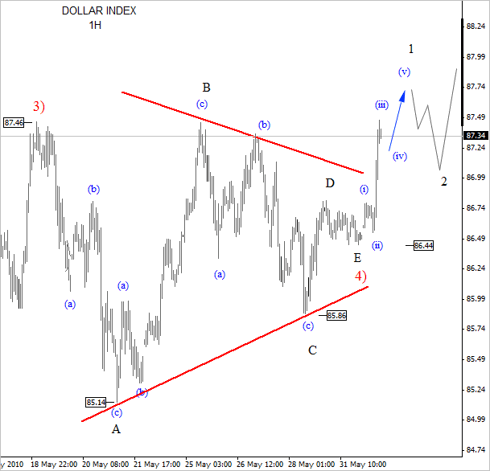 EUR/USD Trade Plan
Since the dollar index moved significantly higher today, the Eur/Usd obviously fell towards the new lows where the bearish price action suggests that there is more down-side ahead. I am watching two resistance levels for a bounce lower. The first one is at 1.2160 followed by a second shown at 1.2195. These are regions where I am expecting top of a blue wave (iv).  As you know, this bearish price action stays in play only if the prices do not trade above the 1.2245 region (blue wave (i)) low where the wave count becomes invalid.
My trading plan is to go Short with 50% (2/4) of my position at 1.2160 and the second 50% (1/4) at 1.2190 with all stops at 1.2250 region. Final target from 1.2160 will be at 1.2070 and final target from 1.2190 will be at 1.2105. Any updates or changes will be posted on twitter (http://twitter.com/gregahorvatfx )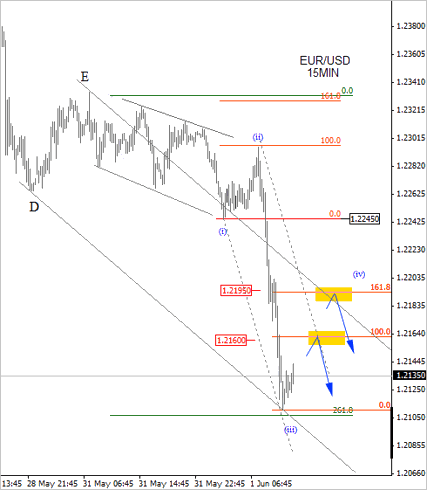 Aud/Usd: Bears in process?!
Aud/Usd traded lower as expected since the dollar index moved higher. The price action could be signaling for more weakness in the near-term but only if the pair remains below 0.84100 and 0.84675 resistances. However, I closed a trade from 0.8495 yesterday for 55 pips gain because it was end of the month. I also posted that on twitter.
I am not very confident into the current wave structure, so will stay aide on this for now; I think euro should be enough.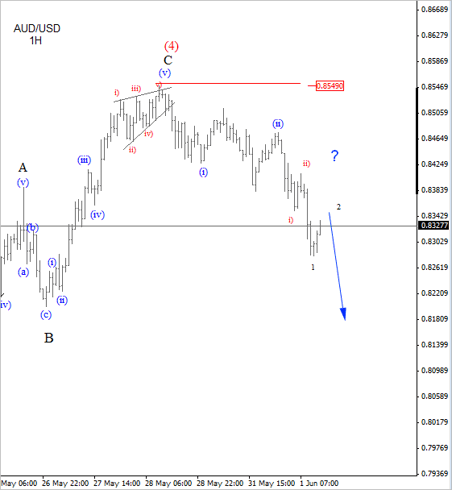 Disclosure:
Long $