The Australian dollar is nearing parity with the U.S. dollar. We can see in the chart below that recently there has been some very bullish price action in the AUDUSD which signaled this move higher.
Note the fakey + pin bar combo setup and then the 2 bullish pin bars that formed recently. This setups are examples of how to trade a trending market with simple price action formations.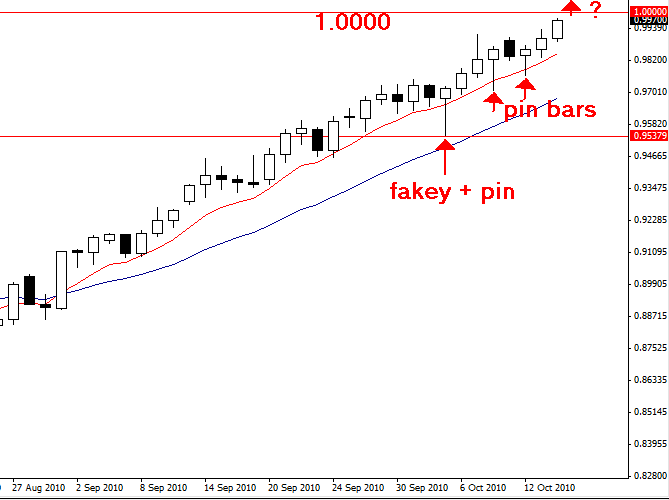 EURJPY:
The EURJPY fakey + pin setup we discussed in yesterday's commentary has broken higher in-line with the dominant trend. Resistance comes in near 115.50.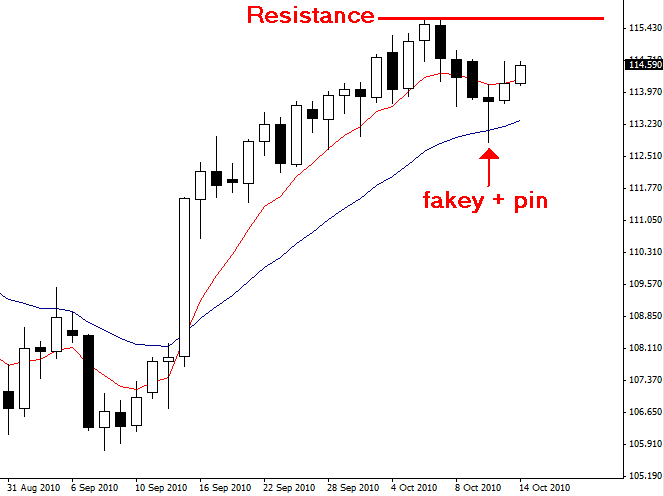 For a more in-depth analysis of the major forex currency pairs and price action analysis, please check out my forex trading course.

Commentary:
Global stocks rose today on expectations that the U.S. Federal Reserve bank will further loosen monetary policy to inject life into the stagnant U.S. economy.
Gold reached a new all-time high today of $1374.15 an ounce as investors looked for safety as the U.S. dollar continues to weaken. Oil closed just above $83 a barrel, moving up 1.6 percent today.
The AUDUSD is nearing parity and the U.S. dollar weakened further today against all the other major currencies.
The Dow moved up 75.68 points, or 0.69 percent, the S&P 500 added 8.33 points, or 0.71 percent, and the Nasdaq added 23.31 points, or 0.96 percent.