As we discussed yesterday, the EURJPY did rotate higher, however the rally was a bit stronger than anticipated, as it was in the other currency pairs as well.
The 8 and 21 day ema's are still looking like the will cross lower soon, we could see a move lower from here but we would like to see a confirming price action signal on the 4hr or 1hr charts before committing to any new shorts.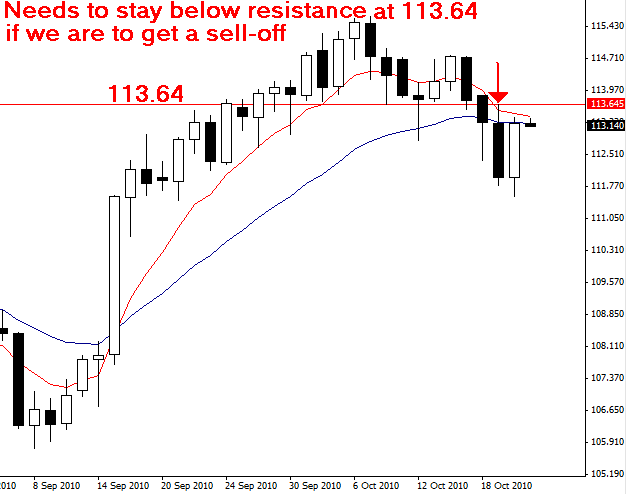 U.S. Dollar Index:
The below chart is of the U.S. dollar index, we put this in to show how yesterday's bull move in the USD was quickly reversed today as the bears stepped right back in to sell the dollar lower on the back of continued weak fundamental data.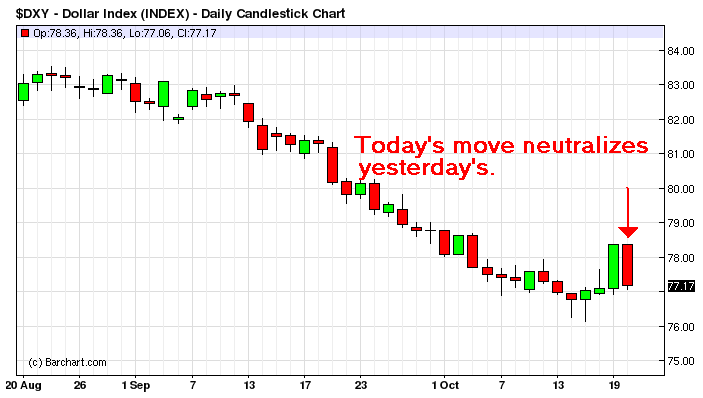 For a more in-depth analysis of the major forex currency pairs and price action analysis, please check out my forex trading course.
Commentary:
Note: We did get a rotation up today in most of the majors as we discussed in yesterday's commentary, however, given the depth of yesterday's selloff and the strength of the rally today, these two forces have effectively neutralized one another. Personally, I am sitting on the sidelines and waiting for some strong 1hr or 4hr price action signals before committing to a new short.
The U.S. dollar weakened today as investors expected the Federal Reserve bank will soon provide more economic stimulus. The greenback fell across the board against the other majors on the back of talk that the U.S. central bank plans to spend $500 billion in bond purchases over the next six months, with the possibility of committing to do more in the next 18 months.
"Dollar weakness into the Nov. 3 FOMC meeting is the clearest trade right now. Investors want to continue on that path," said Amelia Bourdeau, senior currency strategist at UBS in Stamford, Connecticut. "(Many) currencies dipped against the dollar yesterday and investors are buying them back."