EURUSD:
The EURUSD moved to a low of 1.3733 today, this is near the support are that comes in around 1.3700, traders short from Monday's quality pin bar setup likely took profits as price moved into this obvious support level.
We may see price consolidate and rotate higher if the support around 1.3700 can hold, if not we may see another push lower.
The AUDUSD moved lower today and hit support near 0.9650 before closing up about 70 pips off its low. The intra-day charts are beginning to push higher and we may see this pair remain in a range between about 0.9650 and 1.000 for the near-term.
Notice on the 4hr AUDUSD chart below that a fakey setup kicked off this latest bear move.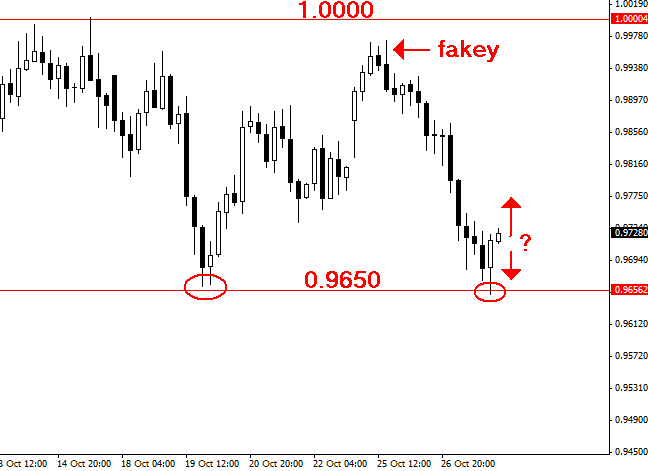 For a more in-depth analysis of the major forex currency pairs and price action analysis, please check out my price action forex trading website.

Commentary:
The U.S. dollar gained strength today while stocks and commodities weakened over doubts on how aggressive the Fed will act at next week's policy meeting.
"The dollar's slide since September has been pricing in aggressive price action by the Fed to around $1 trillion," said Omer Esiner, chief market analyst at Commonwealth Foreign Exchange. However, market participants have since begun to reduce expectations that the Fed will act this aggressively, leading to the recent surge in the greenback.
The dollar was up against a basket of major currencies today, with the USD index moving up 0.48 percent to 78.084.
The Dow dropped 42.18 points, or 0.39 percent, the S&P 500 lost 3.19 points, or 0.27 percent, and the Nasdaq added 5.97 points, or 0.24 percent.