Forex Commentary:
The U.S. dollar lost modest ground to the euro today after strengthening earlier in today's session; the greenback gave up only about 10 pips to the euro after the euro erased most of the greenback's intra-day gains.
Against other currencies the U.S. dollar was mostly weaker today, with the exception being modest gains against the yen and Swiss franc.
Trading Setups / Chart in Focus:
EURUSD:
The EURUSD showed some modest rejection of support near 1.3700, if today's pin bar setup can kick prices higher, we may see this pair move back into it's recent trading range between 1.3700-1.4200.
Alternatively, if prices violate the low of the pin bar we may see a further decline into support near 1.3340.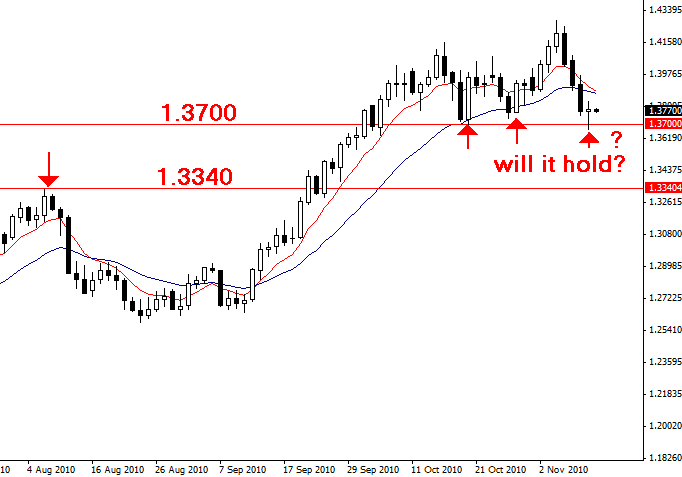 For a more in-depth analysis of the major forex currency pairs and price action analysis, please check out my forex trading eduation website.

Other Markets:
On Wall Street today stocks moved higher as investors bought up some of this week's biggest losers on renewed optimism the really remains strong.
Bank and energy stocks rebounded today, oil rose to a new two-year high above $88 a barrel.
The Dow added 10.29 points, or 0.09 percent, the S&P 500 gained 5.31 points, or 0.44 percent, and the Nasdaq added 15.80 points, or 0.62 percent.
Upcoming important economic announcements: 11/11
Day 1 of G20 meetings.