Forex Commentary:
The U.S. dollar strengthened today against the other majors, the euro fell to a five-week low against the greenback after concerns mounted about Ireland's ability to repay its debt.
Oil prices were little changed today as news of strong demand out of China was offset by a rising U.S. dollar.
The U.S. dollar was supported today after a U.S. think tank report came out saying the Federal Reserve may scale back its latest plan to buy government bonds.
Trading Setups / Chart in Focus:

AUDUSD:
The AUDUSD fell and closed below parity today, if prices continue to slide lower we may see a move down to the next major support level around 0.9670. Alternatively, we may see prices consolidate near 1.0000 before moving substantially in one direction or another, as this level is obviously quite significant.

SILVER:
Silver formed a huge bearish pin bar on Tuesday, price has since consolidated within the structure of the pin bar. We may see further consolidation before or IF this pin bar causes prices to fall lower. Keep in mind this pin bar is counter-trend, and price could also continue to push higher in-line with the uptrend.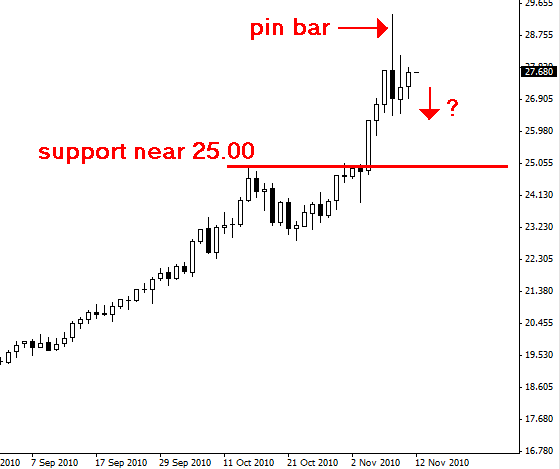 For a more in-depth analysis of the major forex currency pairs and price action analysis, please check out my forex trading education website.
Other Markets:
On Wall Street today stocks were pushed lower by a disappointing outlook from technology giant Cisco, Cisco lost 16.2% after its earnings report. However, investors viewed Cisco's problems as company-specific and this caused the Nasdaq to slowly recover after dropping more than 2% at the open.
The Dow lost 73.94 points, or 0.65 percent, the S&P 500 dropped 5.17 points, or 0.42 percent, and the Nasdaq lost 23.26 points, or 0.90 percent.
Upcoming important economic announcements: 11/12
Day 2 of G20 Meetings
3:00am EST: Euro-zone – German Preliminary GDP q/q
10:55am EST: United States – Preliminary U of M Consumer Sentiment