Forex Commentary:
The U.S. dollar was mixed today against the other majors, losing slight ground to the euro and British pound after its early session gains against both currencies were eliminated as the trading day came to a close. The greenback gained on the rest of the majors.
The Japanese yen gained substantial ground against most of the majors early on in today's session after a bout of risk aversion, but these gains largely got erased as the trading day came to a close.
Trading Setups / Chart in Focus:
SILVER:
Silver formed a huge bearish pin bar reversal setup this week, this comes after this market formed a large daily bearish pin bar reversal this past Tuesday. Obviously, price action is trying to tell us that the silver market has formed some sort of short-term top here.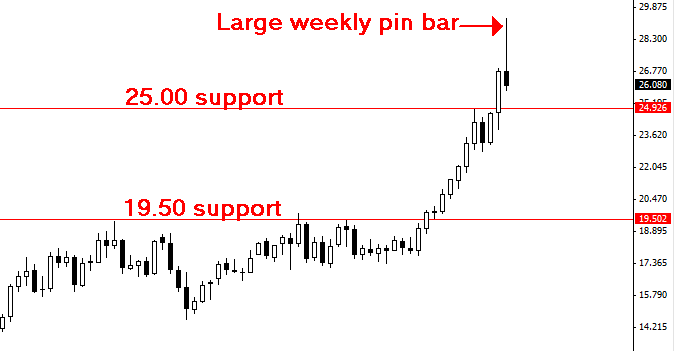 In yesterday's commentary we discussed the possibility of the pin bar setup from Tuesday pushing prices lower, we can see that prices sold off rather aggressively right from the open today.
For a more in-depth analysis of the major forex currency pairs and price action analysis, please check out my forex trading course.

Other Markets:
On Wall Street today stocks moved lower and put an end to what was a five-week winning streak as the threat of rising interest rates in China caused investors to take profits and reconsider the strength of the recent rally in equities.
A series of recent global concerns including debt problems in Ireland and the possibility of rising interest rates in China have caused investors to reassess current bullish positions.
The Dow dropped 90.52 points, or 0.80 percent, the S&P 500 lost 14.33 points, or 1.18 percent, and the Nasdaq lost 37.31 points, or 1.46 percent.
The Shanghai Composite Index dropped 5.16% today, this was its biggest percentage loss in over a year on the likelihood that China's central bank is set to raise interest rates to tackle inflation, a move that could put a damper on future global growth.
Upcoming important economic announcements: 11/14
5:45pm EST: New Zealand – Retail Sales m/m
7:50pm EST: Japan – Prelim GDP q/q
11/15
9:30am EST: United States – Core Retail Sales m/m
9:30am EST: United States – Retail Sales m/m
8:30pm EST: Australia – Monetary Policy Meeting Minutes