Forex Commentary:
The U.S. dollar strengthened today as fears about debt problems in Ireland gave traders and investors more reason to dump the riskier euro in favor of the greenback.
The Japanese yen was also quite strong today with its only loss coming to the U.S. dollar which gained significantly today on global economic fears and weakening commodity prices.
Trading Setups / Chart in Focus:
EURUSD and GBPUSD
The EURUSD fell lower today after a rotation higher intra-day resulted in 2 good pin bar sell signals that were in-line with the daily bearish momentum.
Yesterday we discussed that traders could look to sell a move higher if it was confirmed by a price action setup(s), the following one hour chart shows an excellent example of how intra-day price action can be used to enter a trend..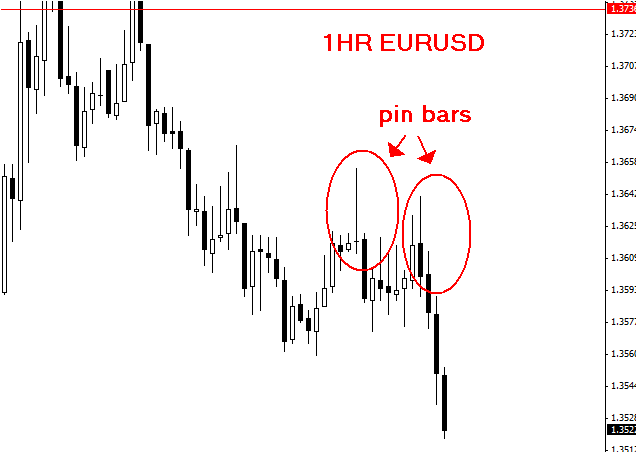 The GBPUSD formed a 4hr pin bar reversal setup last Friday that we posted up in our member's forum before it came off to the downside, this pin bar has since pushed prices significantly lower, crashing through support near 1.5950 today.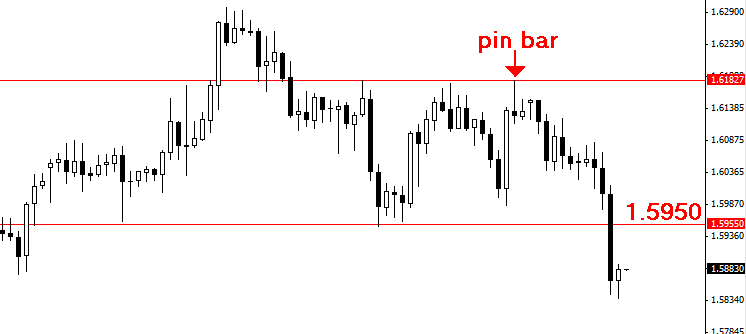 For a more in-depth analysis of the major forex currency pairs and price action analysis, please check out my forex trading course.
Other Markets:
On Wall Street today stocks fell significantly lower as the prospect of more European bailouts and concerns about Chinese inflation took center stage.
Commodities weakened again today as concerns grew that China will move to curb inflationary pressures which could hinder global economic growth.
The Dow dropped 177.10 points, or 1.58 percent, the S&P 500 lost 19.34 points, or 1.61 percent, and the Nasdaq lost 43.98 points, or 1.75 percent.
Upcoming important economic announcements: 11/17
5:30am EST: Britain –Claimant Count Change
5:30am EST: Britain – MPC Meeting Minutes
9:30am EST: United States – Building Permits
9:30am EST: United States – Core CPI m/m
5:45pm EST: New Zealand – PPI Input q/q