Forex Commentary:
The U.S. dollar lost ground to all the majors except the Japanese yen today. The greenback weakened against the euro as concerns over Ireland's debt crisis dissolved as expectations of an imminent resolution to the crisis grew.
Commodities were also stronger today, with gold, silver, and oil all gaining substantially ground, this worked to weaken the U.S. dollar.
Trading Setups / Chart in Focus:
Silver and EURUSD
Silver prices have bounced off support near 25.00 and rotated higher back into the "event area" where we saw the breakdown of the large bearish pin bar from last week. Anytime price moves back into these event areas it is something for traders to take note of, as signals in these areas carry more weight.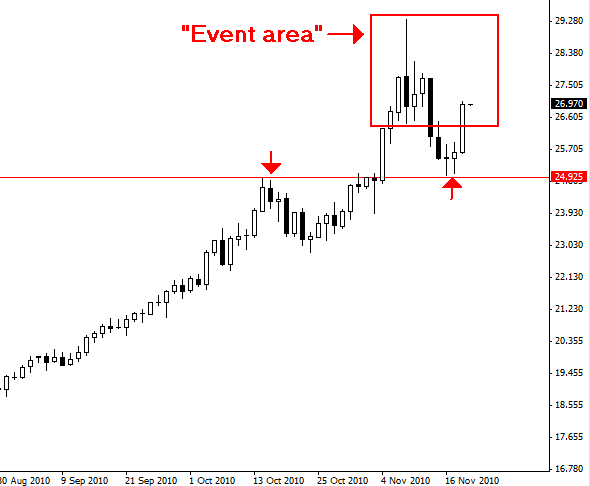 The EURUSD rotated up into its 8 day ema today after an inside bar stall out yesterday, the pair is looking to challenge resistance between the 8 and 21 day emas around 1.3700 – 1.3750, this area is where the previous breakout occurred to the downside last week. Traders should keep an eye on this "event area", but as of right now we are sitting on our hands waiting for some price action to develop.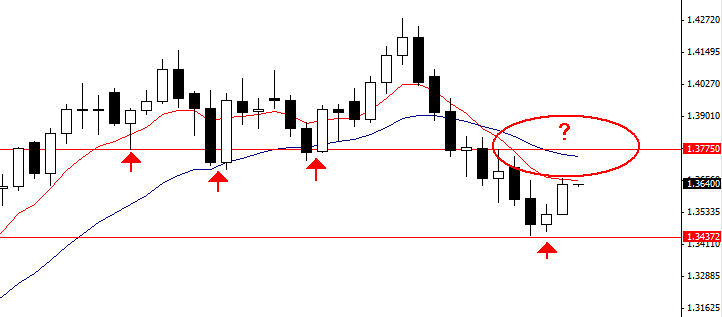 For a more in-depth analysis of the major forex currency pairs and price action analysis, please check out my forex trading education website.

Other Markets:
On Wall Street today U.S. stocks rose on expectations of a resolution of Ireland's banking problems, however stocks were unable to break through significant technical levels, indicating consolidation may be ahead.
The Dow added 173.35 points, or 1.57 percent, the S&P 500 gained 18.10 points, or 1.54 percent, and the Nasdaq gained 38.39 points, or 1.55 percent.
Upcoming important economic announcements: 11/19
6:15am EST: United States – Fed Chairman Bernanke Speaks