Forex Commentary:
The U.S. dollar lost ground today to all the other majors, with the exception being a marginal gain against the Canadian dollar.
Gold rallied significantly today, adding about 30$ an ounce and closing about 10$ an ounce below the all time high of $1424.43 an ounce.
Trading Setups / Chart in Focus:
GOLD
Gold pushed substantially higher into this week's close today, continuing the bullish momentum after the inside / pin bar setup from this past Monday broke to the upside.
We can see in the chart below the all-time highs are coming in close overhead around $1425.00 an ounce, this recent up move in Gold, set off by a quality price action signal, was a good example of how to trade price action with the trend.
Also, note the 2 counter-trend pin bars that occurred on Wednesday and Thursday of this week; they did not work-out and were not good signals, a prime example of why you should stick with trend-trading and avoid picking tops or bottoms.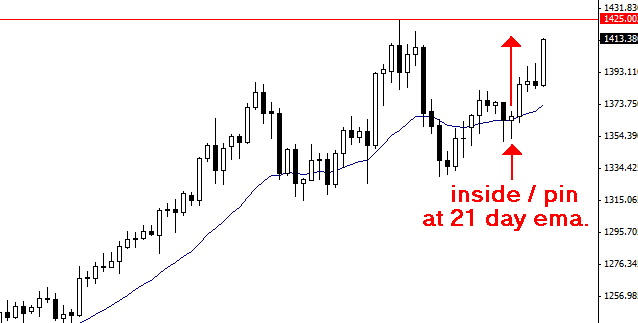 For a more in-depth analysis of the major forex currency pairs and price action analysis, please check out my price action forex trading course.

Other Markets:
On Wall Street today stocks rose, ending their best week in a month, and shrugging off slow jobs growth in a sign that the rally may have more room to run.
The Dow added 19.68 points, or 0.17 percent, the S&P 500 rose 3.18 points, or 0.26 percent, and the Nasdaq rose 12.11 points, or 0.47 percent.
Upcoming important economic announcements: 12/5
7:30pm EST: Australia – ANZ Job Advertisements m/m
12/6
6th-7th: Britain – Halifax HPI m/m
8:30am EST: Canada – Building Permits m/m
10:00am EST: Canada – Ivey PMI
10:30pm EST: Australia – Cash rate
10:30pm EST: Australia – RBA Rate Statement