Forex Commentary:
The U.S. dollar lost modest ground to the euro and some of the other majors today as trading in the currency market was relatively subdued.
The EURUSD looks like it may stay within the borders of its recent trading range between about 1.3450 – 1.3150 as the trading week comes to a close tomorrow.

Trading Setups / Chart in Focus:

AUDUSD
The AUDUSD formed a nice 4 hour fakey with pin bar setup today during the New York trading session. This 4 hour price action setup is showing rejection of the 8 and 21 day ema support zone on the daily chart. Should this setup come off to the upside price may make another run at parity near 1.0000.
Silver also showed bullish rejection of its 8 and 21 day ema support zone today, forming a bullish 4hr pin bar just before the New York close. This pin bar setup is also rejecting an area of horizontal support that can be seen in the chart below.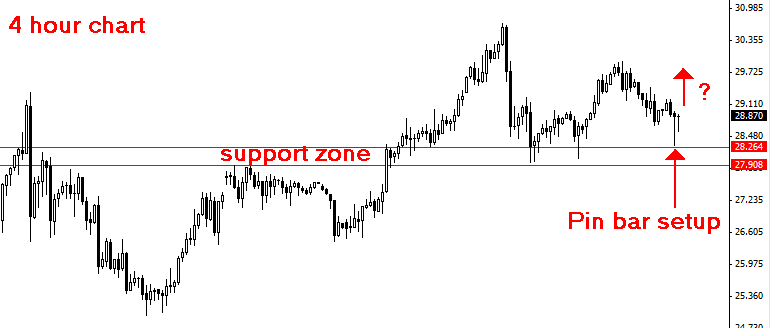 To learn more about the fakey setup and the specific techniques I teach traders to use to enter the fakey, check out my price action forex trading course.
Other Markets:
On Wall Street today stocks moved higher after economic bellwether FedEx offered a bullish profit outlook in what was a hopeful sign for economic growth.
The Dow gained about 42.01 points, or 0.37 percent, the S&P 500 added around 7.66 points, or 0.62 percent, and the Nasdaq added about 20.09 points, or 0.77 percent.

Upcoming important economic announcements: 12/17
Day 2: Euro-zone – EU Economic Summit
4:00am EST: Euro-zone – German Ifo Business Climate