Forex Commentary:
The U.S. dollar gained ground today against most of the other majors with a slight loss coming to the Japanese yen.
The yen was the big winner today, gaining on all the other majors after recouping early session losses.
Trading Setups / Chart in Focus:
EURUSD
The EURUSD is looking bearish on both the weekly and daily time frames just after the New York close for this week.
The daily chart formed a bearish pin bar rejection setup today, showing rejection of the dynamic resistance near the 21 day ema and in-line with the over-all daily down trend.
The weekly chart has formed a bearish fakey with pin bar setup, note how the bullish pin bar on the weekly tried to break to the upside but couldn't sustain higher prices, this resulted in the fakey setup and indicates a weak market.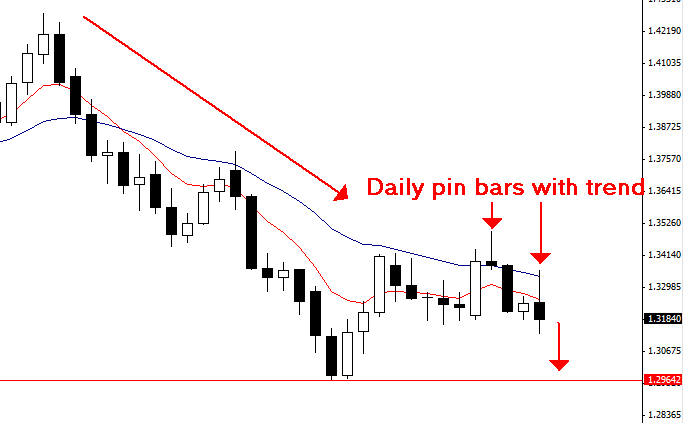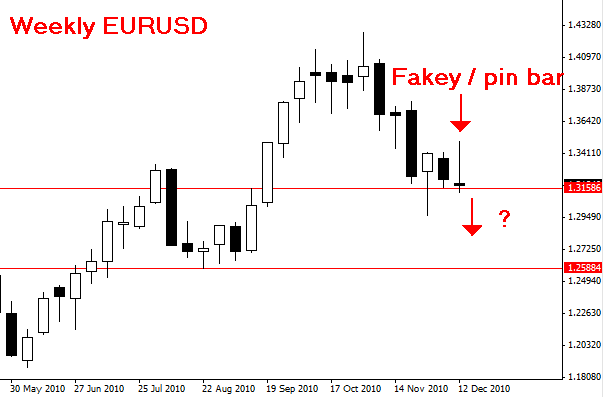 To learn more about the fakey setup and the specific techniques I teach traders to use to enter the fakey, check out my price action forex trading course.
Other Markets:
On Wall Street today the S&P 500 closed marginally higher and clung to a two-year high, meanwhile, investors predicted a stall in the recent rally in coming days, the S&P 500 gained 5% in December so far.
The Dow lost 7.27 points, or 0.06 percent, the S&P 500 added 1.05 points, or 0.08 percent, and the Nasdaq added 5.66 points, or 0.21 percent.
Upcoming important economic announcements: 12/20
7:30pm EST: Australia – Monetary Policy Meeting Minutes
Tentative: Japan – Monetary Policy Statement
Tentative: Japan – Overnight Call Rate