Forex Commentary:
The U.S. dollar was mixed today; it lost ground to the Australia dollar, Swiss franc, New Zealand dollar, and Japanese yen, while gaining on the euro, British pound, and Canadian dollar.
Silver and gold both closed higher today, recouping earlier session losses to end the day positive and form solid 4hr pin bar setups.
Trading Setups / Chart in Focus:
EURUSD
The daily bearish pin bar setup we discussed in Friday's commentary came off modestly to the downside today. The daily downtrend and recent bearish price action makes this pair look like it has the ability to fall into support near 1.2950, any further decline would need to break this level, beyond this we see the next support near 1.2650.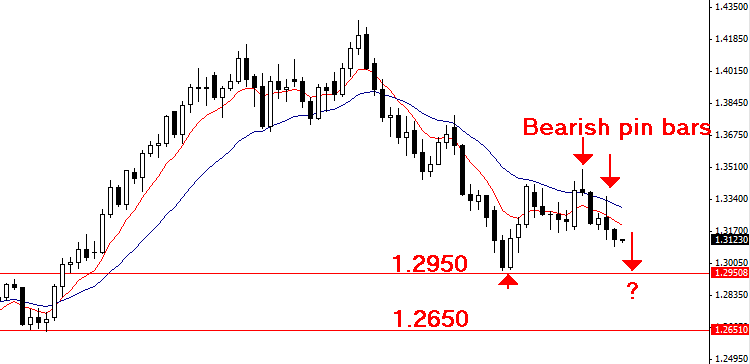 For a more in-depth analysis of the major forex currency pairs and price action analysis, please check out my price action forex trading course.

Other Markets:
On Wall Street today stocks added modest gains that helped push the S&P 500 to a two-year high. Volume was light and is expected to be this way through the end of 2010. The combination of improving economic data, additional stimulus from the Federal Reserve bank, and the extension of tax cuts have been keeping equities in demand.
The Dow lost 13.78 points, or 0.12 percent, the S&P 500 gained 3.17 points, or 0.25 percent, and the Nasdaq added 6.59 points, or 0.25 percent.
Upcoming important economic announcements: 12/21
Tentative: Japan – BOJ Press Conference
4:30am EST: Britain – Public Sector Net Borrowing
7:00am EST: Canada – Core CPI m/m
8:30am EST: Canada – Core Retail Sales m/m
4:45pm EST: New Zealand – Current Account