Forex Commentary:
The U.S. dollar index which measures the dollar against a basket of six other currencies, rose to $79.433 from around $79.152 late Monday.
The dollar moved higher early in the U.S. trading session and picked up steam after the Commerce Department said factory data jumped 0.7% in November, later in the afternoon the greenback strengthened further after the release of the Fed mintues.
A steep selloff in gold and other commodities overshadowed the currency markets however, gold futures ended down $44.1 or 3.1% to $1,378.80 an ounce.

Trading Setups / Chart in Focus:

GBPUSD
The GBPUSD pushed higher today into resistance near 1.5650 off a bullish 4hr fakey setup that formed yesterday. We discussed this 4hr fakey setup in our member's forum commentary before it came off to the upside, some of our member's netted a solid 1 to 2 risk / reward on this setup.
The GBPUSD is currently trading in a range between 1.5650 and 1.5350, these levels will be important in determining the near-term fate of this currency pair.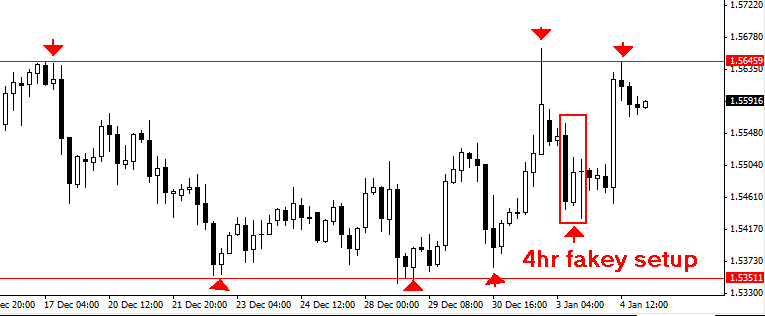 For a more in-depth analysis of the major forex currency pairs and price action analysis, please check out my forex trading training website.

Other Markets:
On Wall Street today the S&P and Nasdaq moved lower as investors abandoned hot commodity stocks and fears of lower supermarket profits struck food retailers.
The Dow gained 20.43 points, or 0.18 percent, the S&P 500 lost 1.67 points, or 0.13 percent, and the Nasdaq lost 10.27 points, or 0.38 percent.
Upcoming important economic announcements: 1/5/2011
8:15am EST: United States – ADP Non-Farm Employment Change
10:00am EST: United States – ISM Non-Manufacturing PMI
7:30pm EST: Australia – Building Approvals m/m