Forex Commentary:
The U.S. dollar rallied on Wednesday and analysts expect it to gain further against other currencies after bullish U.S. data indicated the world's largest economy was on a steady path to recovery.
The greenback was on pace for its biggest one-day gain against the yen in more than three months. Against the euro the dollar's rise was heading for the highest in three weeks. The U.S. data and worries about the ability of some euro zone countries to sell an abundance of debt favored the greenback this week.

Trading Setups / Chart in Focus:
Gold
Gold pulled back today into an area of support between about 1370.00 and 1360.00. We can see a large 4hr bullish pin bar setup has formed showing rejection of this support area.
We could see higher prices off this pin bar setup, price has been in a range between about $1425.00 an ounce and about $1370.00 an ounce for the last month.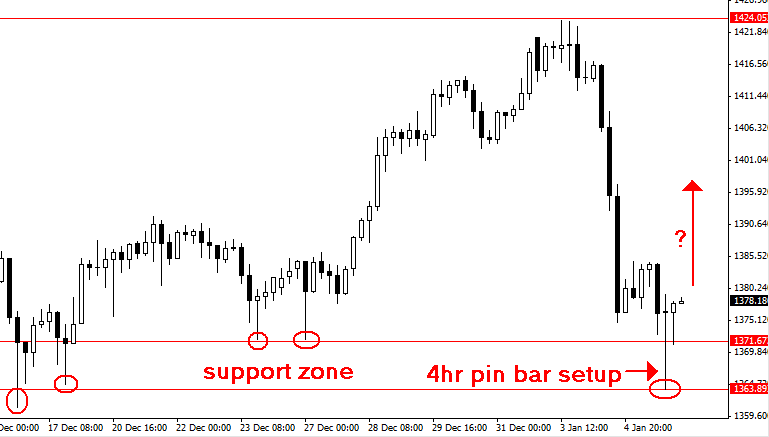 For a more in-depth analysis of the major forex currency pairs and price action analysis, please check out my forex trading training website.
Other Markets:
On Wall Street today stocks extended the recent rally after a jump in private payrolls to nearly triple what was expected, this came two days before the government's labor report and consequently caused economists to boost forecasts for Friday's payroll growth.
The Dow added 31.71 points, or 0.27 percent, the S&P 500 gained 6.36 points, or 0.50 percent, and the Nasdaq added 20.95 points, or 0.78 percent.

Upcoming important economic announcements: 1/6/2011
4:30am EST: Britain – Service PMI
8:30am EST: United States – Unemployment Claims
10:00am EST: Canada – Ivey PMI