Forex Commentary:
The U.S. dollar rose against the euro Friday after the U.S. released figures showing improvement in the unemployment rate.
Friday was the first time the EURUSD has fell below $1.30 in about four months.
On Friday, the U.S. Labor Department said that the unemployment rate dropped in December to 9.4 percent from 9.7 percent in the previous month. It's the lowest the unemployment rate has been in 19 months, though the drop was partly because people stopped looking for work. The nation's economy added 103,000 jobs in December, falling short of expectations.
The U.S. dollar was lower against other major currencies Friday. The British pound rose to $1.5548 from $1.5474. The U.S. dollar fell to 99.24 Canadian cents from 99.62 Canadian cents, and also edged lower to 83.03 Japanese yen from 83.28 yen.
Trading Setups / Chart in Focus:
EURUSD
The EURUSD weekly chart, as seen below, is looking very bearish and has a number of factors coming together that make a strong case for further movement to the downside.
The 8 and 21 week emas have just crossed lower, this is typically a very powerful indication of market sentiment, in this case that the market may move lower. We can see the large weekly bearish pin bar setup from a few weeks back was not violated to the upside, therefore the rejection this candle represents is still relevant.
Into the new trading week, we would like to sell bearish price action setups on rotations back up into intra-day or daily resistance levels, this way we are trading with the dominant daily and weekly bearish trend.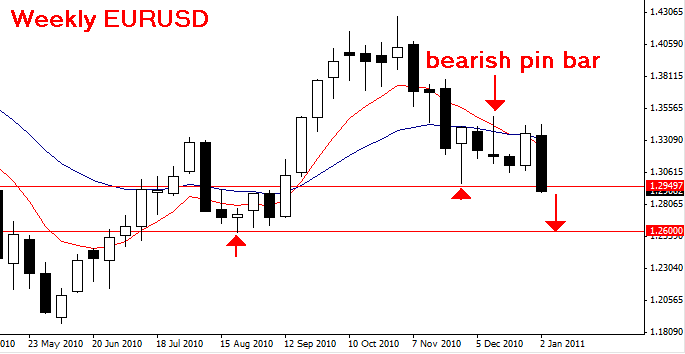 For a more in-depth analysis of the major forex currency pairs and price action analysis, please check out my forex trading education website.
Other Markets:
On Wall Street today stocks moved lower after a court ruling in a key foreclosure case prompted investors to pull out of bank stocks, adding to weakness after a lackluster jobs report.
The S&P 500 and Dow both recorded their sixth consecutive week of gains however, the market has remained strong despite expectations that stocks are overdue for a pullback.
The Dow fell 22.55 points, or 0.19 percent, the S&P 500 lost 2.35 points, or 0.18 percent, and the Nasdaq dropped 6.72 points, or 0.25 percent.
Upcoming important economic announcements: 1/9/2011
7:30pm EST: Australia – ANZ Job Advertisements m/m
7:30pm EST: Australia – Retail Sales m/m
Tentative: China – Trade Balance

1/10/2011
10th-13th: Britain – Halifax HPI m/m
3:15am EST: Switzerland – Retail Sales y/y
8:30am EST: Canada – Building Permits m/m
10:30am EST: Canada – BOC Business Outlook Survey
4:00pm EST: New Zealand – NZIER Business Confidence
7:30pm EST: Australia – Trade Balance