Forex Commentary:
The U.S. dollar fell against the euro on Tuesday after Japan announced plans to buy bonds that are being issued to finance Europe's bailout fund.
The Canadian dollar strengthened against the U.S. dollar on Tuesday, as higher commodity prices and a firmer euro increased investors' risk appetite and helped extend the currency's run above parity with the greenback.
Trading Setups / Chart in Focus:

AUDUSD
The AUDUSD has been falling lower recently, we can see the 8 and 21 day moving averages have crossed lower, reflecting this recent bearish momentum.
There are a few areas of support coming in close below that traders should keep an eye on. The first one comes in around 0.9750 – 0.9650, then there is another support area further below around 0.9550. Traders should watch these areas closely for bullish price action setups.
Traders could also watch for intra-day rotations back up towards the 8 day ema as potential selling opportunities might present themselves in this scenario with confirmation from a bearish price action setup.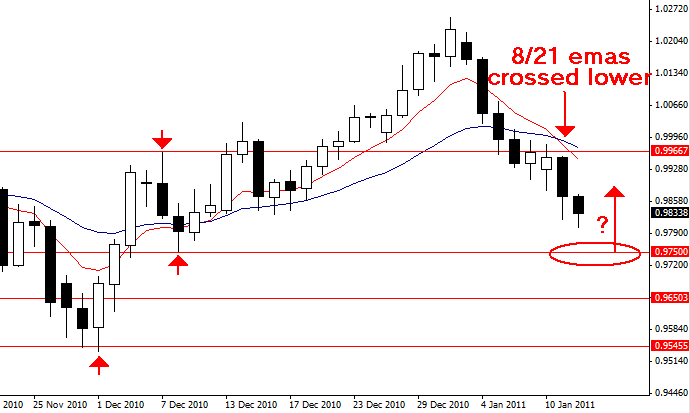 For a more in-depth analysis of the major forex currency pairs and price action analysis, please check out my price action forex trading course.
Other Markets:
On Wall Street today stocks ended a 3-day losing streak as earnings reports worked to support stocks even as investors worried that rising fuel costs will undercut economic growth.
The Dow gained 34.43 points, or 0.30 percent, the S&P 500 gained 4.73 points, 0.37 percent, the Nasdaq rose 9.03 points, or 0.33 percent.
Upcoming important economic announcements: 1/12/2011
7:30pm EST: Australia – Employment Change
7:30pm EST: Australia – Unemployment Rate