Forex Commentary:
The euro fell broadly on Monday as hopes for an increase in the euro zone's bailout fund faded and as investors reassessed a recent rise in European Central Bank interest rate expectations.
"It's becoming increasingly apparent that Germany doesn't want an increase in the rescue fund and that's weighing on euro sentiment today because there were positive expectations building last week," said Manuel Oliveri, currency strategist at UBS in Zurich.
"We believe the euro is a sell on rallies because investors are not minded to buy euro-denominated assets while structural problems in the euro zone persist," he added.
The greenback was up around 0.3 percent versus a currency basket .DXY, while traders said a U.S. public holiday on Monday would reduce liquidity into the European afternoon.

Trading Setups / Chart in Focus:

EURUSD
The EURUSD 4hr bearish pin bar setup discussed in last Friday's commentary has come off to the downside today. A deeper pullback into support near 1.3100 may be in the cards here if we stay under resistance near 1.3400-1.3450.
Support near 1.3100 will likely be significant to watch for price action this week should price move down to re-test this level.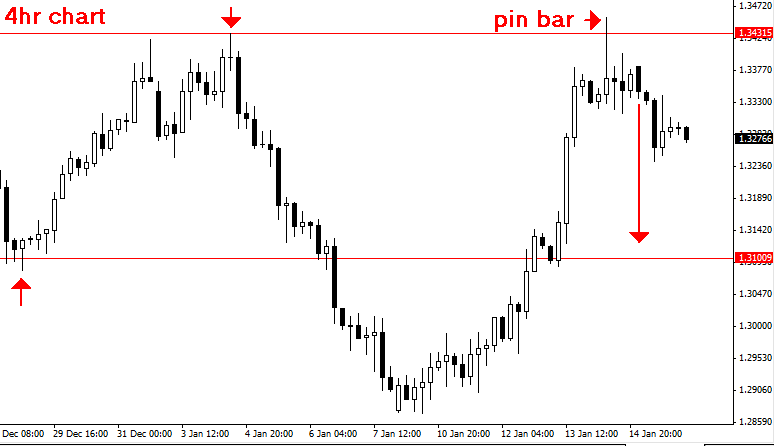 For a more in-depth analysis of the major forex currency pairs and price action analysis, please check out my forex trading education website. 
Other Markets:
On Wall Street today markets were closed in observance of Martin Luther King Jr. day.
Upcoming important economic announcements: 1/18/2011
4:30am EST: Britain – CPI y/y
5:00am EST: Euro-zone – German ZEW Economic Sentiment
9:00am EST: Canada – BOC Rate Statement
9:00am EST: Canada – Overnight Rate
9:00am EST: United States – TIC Long-Term Purchases