Forex Commentary:
The euro edged higher against the dollar late Thursday, after the U.S. currency posted gains earlier in the day following positive U.S. jobless and home sales data.

During late trading Thursday, the euro rose slightly to $1.3469 from $1.3465 Wednesday.
The euro has been rising since late last week, hitting a nearly two-month high Wednesday, because investors have been expecting European leaders to take more aggressive steps to counter Europe's debt crisis. Recent successful bond auctions in Spain and Portugal reassured investors that the region's indebted governments could still raise money.
In other trading Thursday, the British pound fell to $1.5910 from $1.5990, while the dollar rose to 83.04 Japanese yen from 82.06 yen.
Trading Setups / Chart in Focus:

NZDUSD
The Kiwi/Dollar formed a bearish fakey setup with a pin bar yesterday, today this setup came off aggressively to the downside and hit support near 0.7550 with ease. We discussed this price action setup in yesterday's member's commentary; some of our member's entered this trade and made some serious pips.
This setup is a good example of how to use price action setups to trade a range-bound market.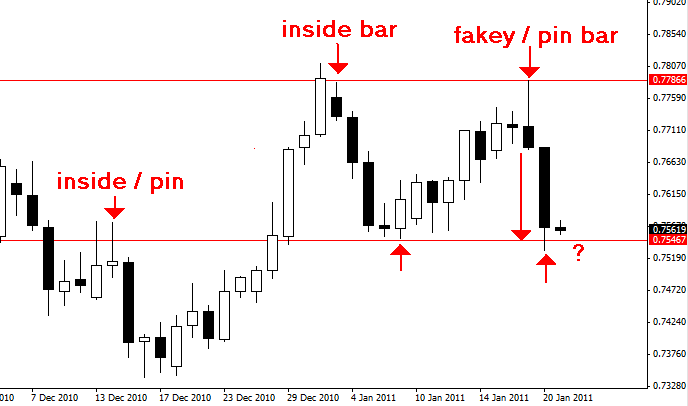 AUDUSD
The AUDUSD formed a bullish rejection pin bar setup off support today just prior to the New York close, given the bearish momentum recently seen in this market, we would prefer to see a break of the high of this pin bar prior to entry.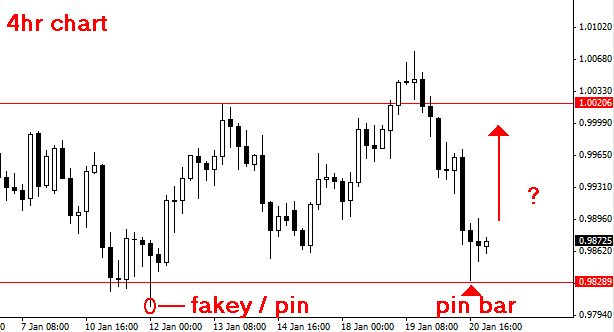 For a more in-depth analysis of the major forex currency pairs and price action analysis, please check out my forex trading education website.

Other Markets:
On Wall Street today stocks moved lower as poor tech and materials earnings failed to live up to expectations, threatening to slow a seven-week bull run.
The declines today were not as sharp as they were yesterday; Morgan Stanley posted stronger-than-expected revenue to help the banking sector rise modestly.
The Dow lost 2.49 points, or 0.02 percent, the S&P 500 dropped 1.66 points, or 0.13 percent, and the Nasdaq lost 21.07 points, or 0.77 percent.
Upcoming important economic announcements: 1/21/2011
4:00am EST: Euro-zone – German Ifo Business Climate
4:30am EST: Britain – Retail Sales m/m
8:30am EST: Canada – Core Retail Sales m/m