Forex Commentary:
The euro climbed to a two-month high above $1.37 on Tuesday and looked poised to extend gains as momentum turned increasingly bullish after the currency's recent break above key chart levels.
The GBPUSD nose-dived after a surprise 0.5 percent contraction in fourth-quarter UK gross domestic product, compared with economists' forecasts of a 0.5 percent gain
The pound fell to a session low of around $1.5750. It last traded down 1 percent at $1.5830. Against the pound, the euro jumped almost 1.5 percent to its highest in two-and-a-half months
Trading Setups / Chart in Focus:

GBPUSD
The GBPUSD lost about 170 pips today after Great Britain's GPD for the last quarter of 2010 fell 0.5 percent; analysts expected a gain of 0.5 percent.
We can see in the chart below that price had previously shown rejection of resistance near 1.6050-1.6100 early last week. Support comes in near 1.5665, there is a good probability price will re-test this support in the near-term given today's extremely bearish price action.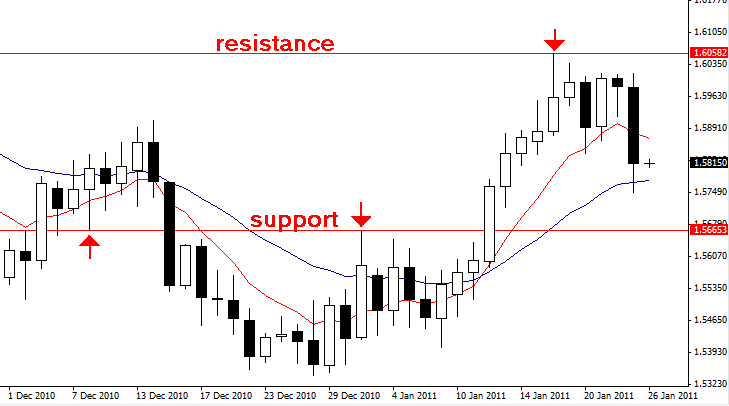 For a more in-depth analysis of the major forex currency pairs and price action analysis, please check out my forex trading education website.
Other Markets:
On Wall Street today U.S. stocks climbed back from early session losses in what was a flurry of late-day buying to close the day little changed, optimism about earnings over-shadowed disappointing results from blue chips 3M and Johnson & Johnson.
The Dow lost 3.3 points, or 0.03 percent, the S&P 500 added 0.34 point, or 0.03 percent, and the Nasdaq gained 1.70 points, or 0.06 percent.
Upcoming important economic announcements: 1/26/2011
4:30am EST: Britain – MPC Meeting Minutes
10:00am EST: United States – New Home Sales
2:15pm EST: United States – FOMC Statement
2:15pm EST: United States – Federal Funds Rate
3:00pm EST: New Zealand – Official Cash Rate
3:00pm EST: New Zealand – RBNZ Rate Statement