Forex Commentary:
The euro ended little changed against the U.S. dollar on Monday after reaching a two-week low, but near-term gains will likely be limited as weak German industrial data fuel doubts of interest rates rising in the euro zone.
European Central Bank President Jean-Claude Trichet doused expectations of an imminent rate increase last week, saying inflation would remain contained. The German data bolstered that view, prompting investors to book more profits after the single currency's new year rally.
The dollar weakened against the euro through most of January on expectations rising inflation would prompt the ECB to raise interest rates much earlier than the Fed.
The greenback added 0.2 percent against the yen, after rising substantially from a one-month low of 81.10 hit just after the Friday jobs report.
Trading Setups / Chart in Focus:

Silver:
Back on January 28th we posted the below silver setup in our member's commentary. We can see this was a pin bar setup that showed clear rejection of the 21 period ema support level. This price action setup has since come off very nicely to the upside and clearly shows the power of trading the higher time frames, and trading in the direction of the dominant trend.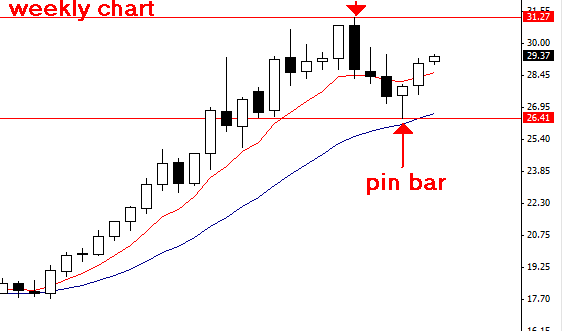 For a more in-depth analysis of the major forex currency pairs and price action analysis, please check out my forex trading training course.
Other Markets:
On Wall Street today merger activity drove the Dow and S&P 500 to 2.5 year highs that signaled more gains are likely.
Speaking to the U.S. Chamber of Commerce, President Barack Obama stepped up efforts to woo the business community, seeking their help to tackle "burdensome" corporate taxes, but offering no new initiatives.
The Dow gained 69.40 points, or 0.57 percent, the S&P 500 gained 8.18 points, or 0.62 percent, and the Nasdaq added 14.69 points, or 0.53 percent.

Upcoming important economic announcements: 2/8/2011
8:15am EST: Canada – Housing Starts