Forex Commentary:
The U.S. dollar fell to the euro in late trading Tuesday after China announced that it would raise rates. Investors have also become less worried about the unrest in Egypt, moving away from the dollar and looking to invest in riskier currencies.
The euro rose to $1.3627 late Tuesday, from $1.3591 Monday.
In other trading Tuesday, the British pound fell to $1.6057 from $1.6121. The U.S. dollar rose to 0.9634 Swiss franc from 0.9552 Swiss franc, and also rose to 99.60 Canadian cents from 99.03 Canadian cents.
The U.S. currency also rose to 82.38 Japanese yen Tuesday from 82.29 Japanese yen Monday.
Trading Setups / Chart in Focus:

GBPUSD
The GBPUSD pin bar setup that we posted in the commentary from February 3rd has been working its way lower since it formed.
There is some strong support near 1.6030 that has held strong on recent tests over the last few trading days. Should price eventually crack through this support we may see a larger decline at least into the 21 ema dynamic support area. If price rotates higher will likely see more sideways chop in the trading range between 1.6030 – 1.6300.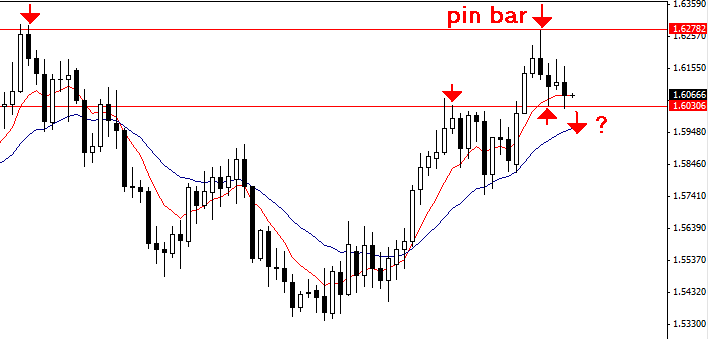 For a more in-depth analysis of the major forex currency pairs and price action analysis, please check out my forex trading education website.
Other Markets:
On Wall Street today the Dow closed higher for the seventh day in a row, however, light volume suggested that investors are not too confident that the five-month plus rally has enough gas in the tank to keep going.
The Dow closed up 71.52 points, or 0.59 percent, the S&P 500 added 5.52 points, or 0.42 percent, and the Nasdaq gained 13.06 points, or 0.47 percent.
Upcoming important economic announcements: 2/9/2011
10:00am EST: United States – Fed Chairman Bernanke Testifies
7:30pm EST: Australia – Employment Change
7:30pm EST: Australia – Unemployment Rate