Forex Commentary:
The U.S. dollar held its gains against the euro and most other currencies Friday after Egypt's president resigned.
The euro, used by 17 countries, fell to $1.3541 late Friday from $1.3593 Thursday. The British pound dropped to $1.6024 from $1.6092, while the dollar rose to 83.49 Japanese yen from 83.32 yen.
In other trading Friday, the dollar dropped to 98.78 Canadian cents from 99.58 Canadian cents, but rose to 0.9739 Swiss franc from 0.9696 Swiss franc.

Trading Setups / Chart in Focus:

EURUSD
The EURUSD finished this week lower, the last 3 weeks have actually seen lower closes, with a pin bar setup forming the week ending January 30th.
Should price break below 1.3500 this week we could see a further drop to the downside before this market pushes higher, otherwise price will likely chop between about 1.3500 – 1.3750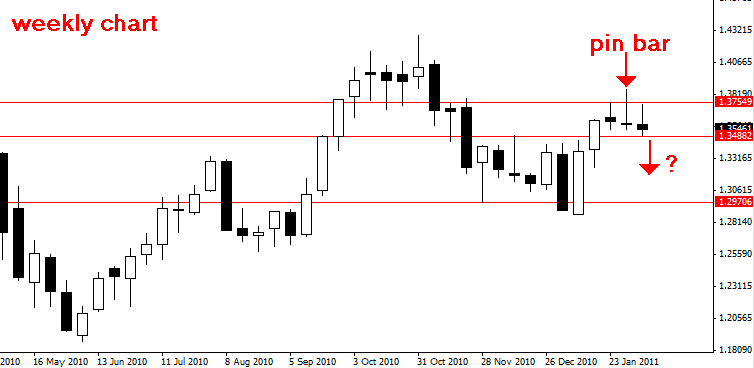 For a more in-depth analysis of the major forex currency pairs and price action analysis, please check out my forex trading training website.

Other Markets:
On Wall Street today U.S. stocks ended their second straight week of gains with a rally sparked after Egyptian President Hosni Mubarak resigned, easing tension around the region for now.
The S&P 500 has surged almost 27 percent in the last five months, however, light volume has been causing investors to question whether the rally will be sustainable over the coming weeks.
The Dow added 43.97 points, or 0.36 percent, the S&P 500 gained 7.28 points, or 0.55 percent, and the Nasdaq added 18.99 points, or 0.68 percent.
Upcoming important economic announcements: 2/13/2011
4:45pm EST: New Zealand – Retail Sales m/m
6:50pm EST: Japan – Prelim GDP q/q
7:30pm EST: Australia – Home Loans m/m
Tentative: China – Trade Balance

2/14/2011
7:30pm EST: Australia – Monetary Policy Meeting Mintues
9:00pm EST: China – CPI y/y
Tentative: Japan – Monetary Policy Statement
Tentative: Japan – Overnight Call Rate