Forex Commentary:
The U.S. dollar was lower against the euro, Japanese yen and Swiss franc on Wednesday after reports suggested that Iran plans to send warships through the Suez Canal.
Canada's dollar firmed against the greenback on Wednesday, helped by rallying equity and oil prices, but it failed to break out of the tight range in which it has been locked for weeks.
The AUDUSD also moved higher today as the Australian dollar gained about 70 pips on the greenback.

Trading Setups / Chart in Focus:

EURUSD
The EURUSD formed an inside bar setup yesterday just above support near 1.3430, price broke up above the setup today. Should we see continued buying pressure we may see the pair move higher to retest resistance near 1.3750. Alternatively, we could see price grind sideways before it makes another significant directional move.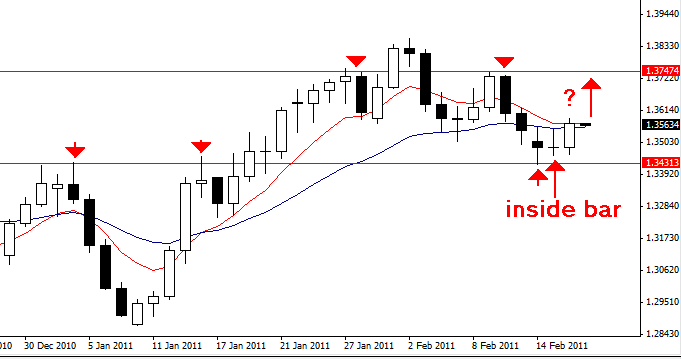 For a more in-depth analysis of the major forex currency pairs and price action analysis, please check out my price action trading education website.
Other Markets:
On Wall Street today the S&P 500 completed an up move to double its value from just two years ago; a move this strong has not been witnessed since the Great Depression.
The S&P 500 closed above 1,333.58, double the intraday low hit in early March 2009. On a closing level, the market has risen more than 96 percent since March 9, 2009 –a run not seen in such a short period of time since 1936, according to Howard Silverblatt, senior index analyst at Standard & Poor's.
The Dow added 61.53 points, or 0.50 percent, the S&P 500 rose 8.31 points, or 0.63 percent, and the Nasdaq added 21.21 points, or 0.76 percent.
Upcoming important economic announcements: 2/17/2011
8:30am EST: United States – Core CPI m/m
8:30am EST: United States – Unemployment Claims
10:00am EST: United States – Fed Chairman Bernanke Testifies
10:00am EST: United States – Philly Fed Manufacturing Index