Forex Commentary:
The Swiss franc and yen rose on Tuesday as a revolt in Libya stoked safe-haven demand, and fears of escalating unrest in the Middle East and Africa could spark further gains in these currencies.
The Swiss currency rallied about 1 percent against both the euro and U.S. dollar. But the euro, which tends to weaken when risk aversion rises, was down only modestly against the dollar after comments from European Central Bank officials boosted expectations for euro zone interest rate hikes.
The Australian dollar dropped 1.1 percent against the greenback to $0.9983.

Trading Setups / Chart in Focus:
EURUSD
The EURUSD 4hr pin bar setup that we discussed in yesterday's commentary came off nicely to the downside during today's forex trading session. Some of our member's caught this setup and made some nice pips off of it.
The EURUSD is in a trading range right now between about 1.3750 – 1.3450, we will need to see price break out of this range to establish a new leg in either direction. We are simply using price action to trade this range until we get a clear break up or down out of this range.
4 hour chart: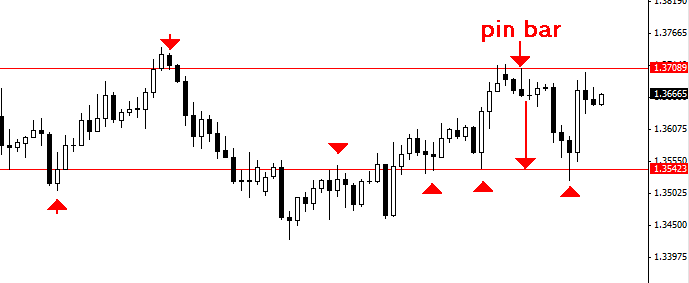 Daily chart: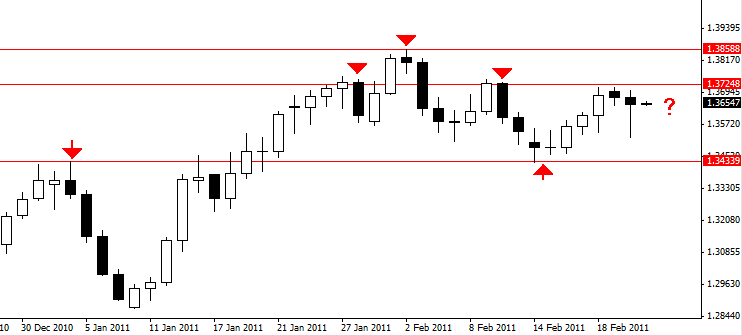 For a more in-depth analysis of the major forex currency pairs and price action analysis, please check out my price action forex trading course.
Other Markets:
On Wall Street today stocks suffered their worst day since August as investors dumped shares on turmoil in oil exporter Libya. Many investors have commented this could be the start of a long-anticipated pullback after a lengthy rally due to rising volatility and the heavy volume that accompanied today's pullback.
Today's volume was 9.68 billion shares traded on the NYSE, the American Stock Exchange and Nasdaq, this was the highest volume session for the month and the second-highest for 2011.
The Dow dropped 178.46 points, or 1.44 percent, the S&P 500 lost 27.57 points, or 2.05 percent, and the Nasdaq fell 77.53 points, or 2.74 percent.

Upcoming important economic announcements: 2/23/2011
4:30am EST: Britain – MPC Meeting Minutes
10:00am EST: United States – Existing Home Sales
7:30pm EST: Australia – Private Capital Expenditure q/q