Forex Commentary:
The Swiss franc edged toward a record high on Wednesday as turmoil in Libya drove investors to seek safety, while the U.S. dollar fell broadly as the greenback appeared to lose its safe-haven luster.
The euro, which for sometime was treated as a risk currency, rose as investors seeking safety shunned the dollar. Expectations that interest rates will rise faster in the euro zone than in the United States helped boost the single currency.
Against a basket of currencies, the dollar .DXY was down 0.5 percent at 77.383, after falling as low as 77.255, a near three-week trough.
Trading Setups / Chart in Focus:
GBPUSD
The GBPUSD is approaching resistance near 1.6300 that has contained price since early November of last year. Price has been in an uptrend since early January of this year, should this uptrend continue we may see price action push the GBPUSD to new multi-month highs if it can decisively break up past 1.6300.
Note how well the 21 day EMA dynamic support has held up the last couple of times it has been tested.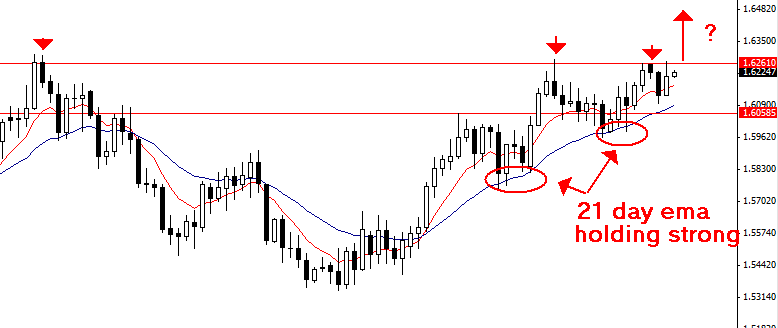 For a more in-depth analysis of the major forex currency pairs and price action analysis, please check out my forex trading training website.
Other Markets:
Stock markets fell worldwide after political violence in Libya sent U.S. oil futures to $100 a barrel, fanning concern about inflation and its impact on the global economy.
The Dow lost 107.01 points, or 0.88 percent, the S&P 500 dropped 8.04 points, or 0.61 percent, and the Nasdaq lost 33.43 points, or 1.21 percent.
Upcoming important economic announcements: 2/24/2011
8:30am EST: United States – Core Durable Goods Orders m/m
8:30am EST: United States – Unemployment Claims
10:00am EST: United States – New Home Sales