Forex Commentary:
The dollar rose from recent lows against the euro, pound and other currencies Friday as oil prices retreated below $100 a barrel.
The euro fell to $1.3741 late Friday from $1.3807 Thursday, retreating from its highest level in nearly a month, while the British pound dropped back to $1.6098 from $1.6137. The pound reached a one-month high on Wednesday, near $1.63.
The dollar edged down to 81.71 Japanese yen from 81.77 yen, not far off its post-World War II low of 79.75 yen, struck in 1995.
In other trading Friday, the dollar fell to 97.83 Canadian cents from 98.35 Canadian cents, while the dollar rose from a record low against the Swiss franc of 0.9237 Swiss franc, to 0.9287 Swiss franc on Friday. On Thursday, the dollar was worth 0.9253 Swiss franc.
Trading Setups / Chart in Focus:
EURUSD
The EURUSD made a run at the key resistance near 1.3860 today but failed to sustain itself near this level and sold off to close the day down about 50 pips.
Traders should keep a close eye on the dynamic support area between the 8 and 21 day emas next week for potential buying opportunities. A solid price action setup on the daily or 4hr chart within this support area would be reason to consider a long.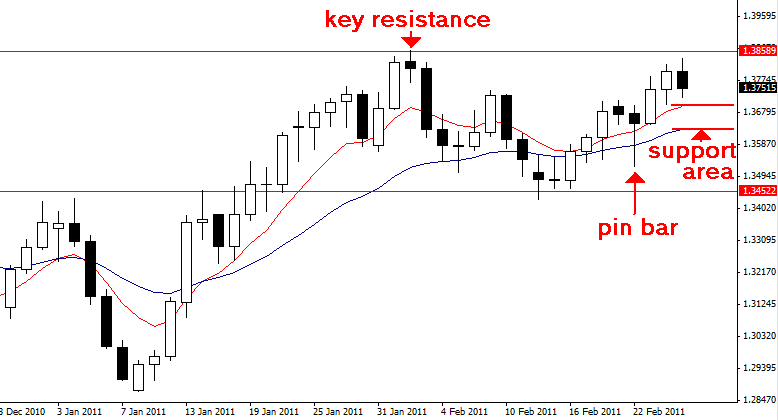 For a more in-depth analysis of the major forex currency pairs and price action analysis, please check out my forex trading education website.
Other Markets:
U.S. stocks rose on Friday, gaining ground after a three-day sell-off as oil prices stabilized, however, unease over the Libyan rebellion could be enough to keep the rally from gaining steam next week.
The Dow gained 61.95 points, or 0.51 percent, the S&P 500 added 13.78 points, or 1.06 percent, and the Nasdaq added 43.15 points, or 1.58 percent.

Upcoming important economic announcements: 2/27/2011
9:00pm EST: New Zealand – NBNZ Business Confidence
2/28/2011:
8:30am EST: Canada – GDP m/m
10:00am EST: Pending Home Sales m/m
7:30pm EST: Australia – Retail Sales m/m
8:00pm EST: China – Manufacturing PMI
10:30pm EST: Australia – Cash Rate
10:30pm EST: RBA Rate Statement