Forex Commentary:
The yen soared on Friday after the worst earthquake on record to hit Japan spurred a flight to safety, and it could rise further next week if insurers scramble to raise cash by selling their foreign assets.
The yen initially fell to a two-week low against the dollar but then shot higher as the full extent of the devastation became clear. The quake triggered a ferocious tsunami, killing at least 1,000 people.
Worries about the impact on a fragile Japanese economy prompted investors to cut exposure to risk, traders said, with Japanese investors who had used cheaply borrowed yen to invest abroad bringing the money back home.
The dollar fell 1.2 percent to 81.87 yen JPY, its biggest one-day decline since Dec. 3, while the yen also rallied against the euro, pound and Swiss franc.
The euro, meanwhile, rose 0.8 percent to $1.3903, after leaders reached a deal to establish higher retirement ages, more flexible labor markets and debt and deficit limits for euro zone countries.
Trading Setups / Chart in Focus:
GBPUSD
The GBPUSD formed a bullish pin bar off support near 1.6000 on Friday, as long as the pin bar low holds this pair is mildly bullish biased and we could see a move higher back towards resistance.
The EURUSD pushed higher off dynamic support near the 21 day EMA on Friday after the retracement lower into 1.3750 held. There are no price action trade setups in the EURUSD right now, but we will watch closely throughout the upcoming week. Resistance sits near 1.4030.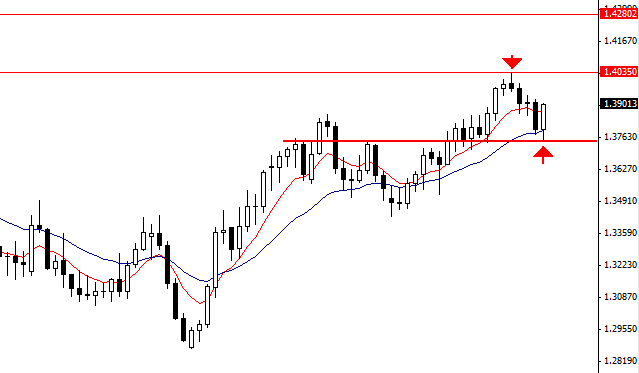 For a more in-depth analysis of the major forex currency pairs and price action analysis, please check out my price action forex trading course.
Other Markets:
On Wall Street Friday, U.S. stocks closed the week on a high note after investors regained optimism on relief that unrest did not engulf top oil producer Saudi Arabia.
The Dow gained 59.79 points, or 0.50 percent, the S&P 500 added 9.17 points, or 0.71 percent, and the Nasdaq added 14.59 points, or 0.54 percent.

Upcoming important economic announcements: 3/13/2011
9:30pm: Britain – BOE Gov King Speaks
Tentative: Japan – Monetary Policy Statement
Tentative: Japan – Overnight Call Rate
3/14/2011
Tentative: Japan – BOJ Press Conference
7:30pm EST: Australia – Monetary Policy Meeting Minutes