Forex Commentary:
The Japanese yen rose broadly on Tuesday, edging towards a record high against the U.S. dollar, as fears of a nuclear catastrophe in Japan sparked a sell-off in global stocks and commodities and prompted investors to exit riskier trades funded by cheap borrowing in the yen.
The U.S. dollar fell as low as 80.60 yen, not far from its record low of 79.75 struck in 1995.
The euro lost 1.1 percent to 112.99 yen. The yen rallied particularly strongly against higher-yielding currencies such as the Australian and New Zealand dollars.
The Australian dollar slid to a nine-week low of $0.9815 against the U.S. currency and a four-and-a-half-month low of 79.23 yen, according to Reuters data.
Trading Setups / Chart in Focus:

EURUSD
The EURUSD rejected lower prices today, forming a bullish pin bar, however resistance sits close overhead near 1.4035; we would need to see a break above this level to establish another leg higher. Support sits near 1.3850.
The USDJPY is not far away from its all time low at 79.75, which occurred in 1995. We can see in the weekly chart below there is some support near 80.24, if that breaks we could see a potential retest of the all-time low.
Just an observation of support levels here, with all the volatility in the yen pairs lately it is probably best to stay on the sidelines.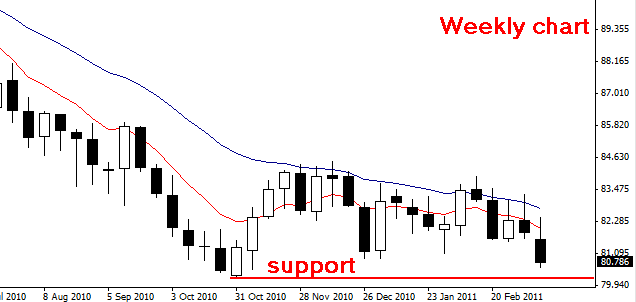 For a more in-depth analysis of the major forex currency pairs and price action analysis, please check out my forex price action trading course.

Other Markets:
On Wall Street today U.S. stocks fell 1 percent but closed the day far from session lows on the back of an upbeat economic view from the Federal Reserve.
Today marked the second day in a row of losses tied to Japan, the S&P 500 fell within four points of its 2010 close, falling more than 2 percent in early trading. The Nasdaq briefly turned negative for the year.
The Dow lost 137.74 points, or 1.15 percent, the S&P 500 lost 14.52 points, or 1.12 percent, and the Nasdaq lost 33.64 points, or 1.25 percent
Upcoming important economic announcements: 3/16/2011
3:00am EST: Britain – BOE Gov King Speaks
5:30am EST: Britain – Claimant Count Change
8:30am EST: United States – Building Permits
8:30am EST: United States – PPI m/m