Forex Commentary:
The yen rallied to a new all-time high against the dollar as traders speculated G-7 central bankers may be getting ready to intervene to drive the currency lower.
Just before 5 p.m. New York time, dollar/yen broke through the 79.75 level and continued to tumble to as low as just beneath 76.50. Reuters reported that the G-7 finance ministers are expected to hold a conference call Thursday evening New York time to discuss the crisis in Japan.
The euro lost ground to the greenback today as the U.S. dollar joined the yen in gaining on the flight to safety today.
The Swiss franc was also a big winner today as investors sought its ultra-safe status, it rallied hard against the U.S. dollar, euro, and British pound today.

Trading Setups / Chart in Focus:

USDJPY
The USDJPY and the other yen pairs all sold off aggressively today on the back of continuing fears over the Japanese nuclear situation and aftermath from the Tsunami.
The yen soared to its highest level against the US dollar since World War 2 in late New York trading, rapidly accelerating to reach Y76.36.
The move reflected growing expectations that Japanese investors would sell foreign assets and bring money home for reconstruction efforts following its earthquake and tsunami.
Note that the previous support near 80.20 – 81.00 now has the potential to act as resistance.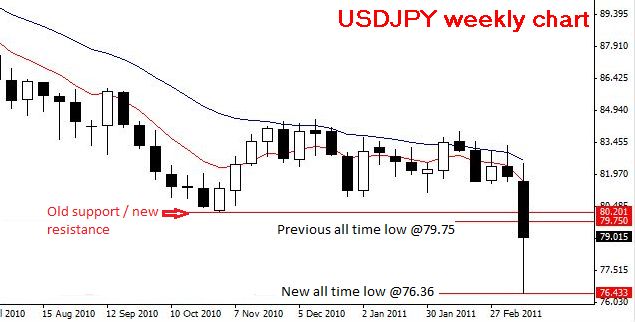 For a more in-depth analysis of the major forex currency pairs and price action analysis, please check out my price action forex course.

Other Markets:
On Wall Street today U.S. stocks in the S&P 500 and Nasdaq dropped into negative territory for the year in a flood of selling on worries that Japan's nuclear crisis would continue to cause trouble for equities.
The VIX, which measures volatility, surged today as stocks put in the most heavily traded session of the year.
The Dow lost 242.12 points, or 2.04 percent, the S&P 500 lost 24.99 points, or 1.95 percent, and the Nasdaq dropped 50.51 points, or 1.89 percent.
Upcoming important economic announcements: 3/17/2011
4:30am EST: Switzerland – Libor Rate
4:30am EST: Switzerland – SNB Monetary Policy Assessment
8:30am EST: United States – Core CPI m/m
8:30am EST: United States – Unemployment Claims
10:00am EST: United States – Philly Fed Manufacturing Index