Forex Commentary:
The euro hit a 10-month high against the yen and rose against the dollar on Wednesday as markets braced for higher euro zone interest rates, while the Australian dollar hit levels last seen in the early 1980s.
The euro erased losses against the U.S. currency after a European Central Bank policymaker said the ECB intends to raise rates gradually, which suggests next week's expected hike may be the first of several.
Trading Setups / Chart in Focus:
EURUSD
The EURUSD has held above the 21 day EMA this week so far, and today it formed an inside pin bar setup. If this price action trading strategy breaks higher we could see a re-test of the resistance from November 2010 near 1.4280.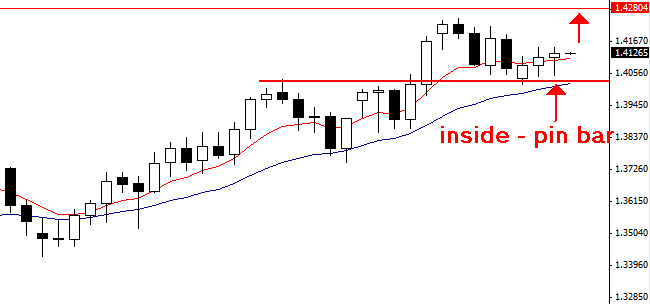 For a more in-depth analysis of the major forex currency pairs and price action analysis, please check out my forex trading website

Other Markets:
On Wall Street today stocks rose as investors rode winners as the first quarter comes to an end. Positive expectations for this Friday's labor market data also helped boost sentiment.
The Dow added 71.60 points, or 0.58 percent, the S&P 500 gained 8.82 points, or 0.67 percent, and the Nasdaq gained 19.90 points, or 0.72 percent.
Upcoming important economic announcements: 3/31/11
2:00am EST: Britain – Nationwide HPI m/m
8:30am EST: Canada – GDP m/m
8:30am EST: United States – Unemployment Claims
7:50pm EST: Japan – Tankan Manufacturing Index
9:00pm EST: China – Manufacturing PMI