Forex Commentary:

The euro edged lower on Monday after hitting a five-month peak against the U.S. dollar and an 11-month high against the yen, with near-term strength seen limited as an expected euro zone interest rate rise was mostly priced in.
Traders expect the euro to stay near current levels in the coming days, with resistance seen around $1.4281, the November high. The single currency could struggle to extend gains unless ECB President Jean-Claude Trichet sounds a surprisingly hawkish tone on inflation, analysts said.

Trading Setups / Chart in Focus:
Silver

Silver pushed higher today on the back of the bullish price action that formed last week. In Friday's commentary we discussed the fakey pin bar strategy that formed early last week in the spot silver market.
We can see in the chart below that the fakey has come off nicely to the upside and prices look very strong in the silver market with today closing near the highs and no resistance in sight.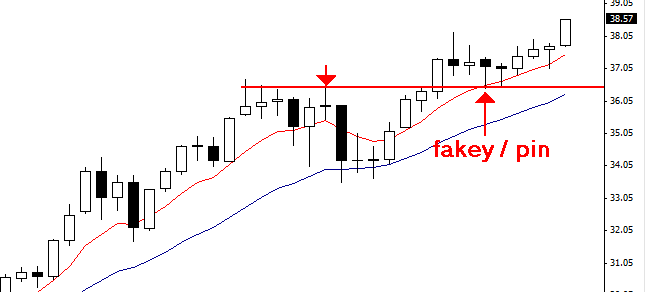 For a more in-depth analysis of the major forex currency pairs and price action analysis, please check out my price action Forex website.
Other Markets:
On Wall Street today the S&P 500 ran into resistance and failed to break through a level that has held since mid-February.
Based on the latest available data at the time of this writing, the Dow added 23.31 points, or 0.19 percent, the S&P 500 added just 0.46 of a point, or 0.03 percent, and the Nasdaq lost only about 0.41 of a point, or 0.01 percent.
Upcoming important economic announcements: 4/5/2011

12:30am EST: Australia – Cash Rate
12:30am EST: Australia – RBA Rate Statement
4:30am EST: Britain – Services PMI
10:00am EST: United States – ISM Non-Manufacturing PMI
2:00pm EST: United States – FOMC Meeting Minutes
9:30pm EST: Australia – Home Loans m/m