Forex Commentary:
The U.S. dollar fell against the euro today after minutes from the Federal Reserve's meeting last month indicated that there probably won't be a hike in interest rates anytime soon.
The euro has been climbing most of the year, gaining nearly 3 percent since early March and hitting a five-month high on Monday. Investors expect the European Central Bank to raise the key interest rate for the 17 countries that use the euro to 1.25 percent from 1 percent, where it has stood since May 2009, because of the threat of inflation from climbing energy and food prices. The ECB meets on Thursday.
The dollar was mixed in other trading today after a report from the Institute for Supply Management showed the service sector expanded at a slower pace in March than in February. The dollar gained to 84.88 Japanese yen from 84.04 yen, but the British pound rose to $1.6294 from $1.6125.
The U.S. currency dipped to 96.33 Canadian cents from 96.77 Canadian cents, and rose to 0.9260 Swiss franc from 0.9235.

Trading Setups / Chart in Focus:

AUDUSD
The AUDUSD fell lower today, and the last two days have seen the pair stall out after its recent impressive upside move.
Should price continue to rotate lower into value, we would watch support near the 21 day EMA and the horizontal level of 1.0200 for potential bullish price action forex trading strategies to rejoin the overall uptrend.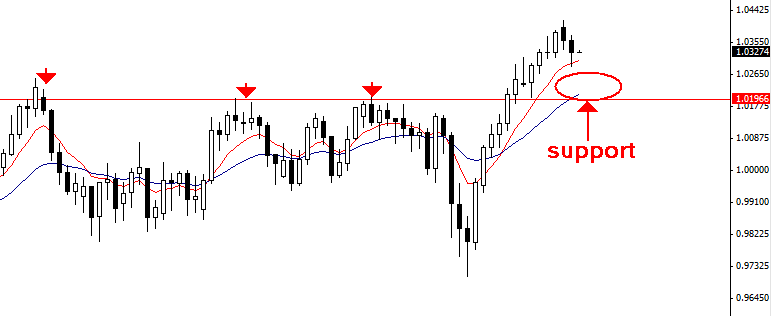 For a more in-depth analysis of the major forex currency pairs and price action analysis, please check out my forex trading course.
Other Markets:
On Wall Street today the S&P 500 could not break through resistance again at a key technical level as low trading volume caused concern about the market's strength.
The Dow lost 6.13 points, or 0.05 percent, the S&P 500 dropped just 0.24 point, or 0.02 percent, and the Nasdaq gained 2.00 points, or 0.07 percent.

Upcoming important economic announcements: 4/6/2011
4:30am EST: Britain – Manufacturing Production m/m
10:00am EST: Canada – Ivey PMI
9:30pm EST: Australia – Employment Change
9:30pm EST: Australia – Unemployment Rate
Tentative: Japan – Monetary Policy Statement
Tentative: Japan – Overnight Call Rate