Forex Commentary:
The U.S. dollar plummeted on Wednesday against major and emerging market currencies as the prospect that U.S. interest rates would remain at record lows encouraged investors to seek higher returns elsewhere.
The euro hit a 15-month high above $1.45, while rising commodity prices and inflation sent the Canadian and Australian dollars to multi-year peaks. Against major currencies, the greenback had its worst day in a month.
The U.S. dollar extended a multi-week slide against large emerging currencies, hitting two-year lows against the Brazilian real and Mexican peso.
The chase for yields also boosted the Australian dollar to an almost three-decade high above $1.0700. The currency benefits from Australia's 4.75 percent interest rate and its role as a large supplier of raw materials and commodities for the booming Chinese economy.

Trading Setups / Chart in Focus:
AUDUSD
The AUDUSD pin bar trading setup we discussed in yesterday's commentary has come off aggressively to the upside today.
Note that this setup was with the general up-trend, pin bars in trending markets are a very high-probability setup that we teach as one of our "bread and butter" price action trading setups. Many of our member's got in on this trade and made some nice money on it.
We can see a minor old resistance / new support area near the 8 day EMA at 1.0580 that price busted through easily today as the pin bar came off. This level should now act as support if price rotates lower in the near-term.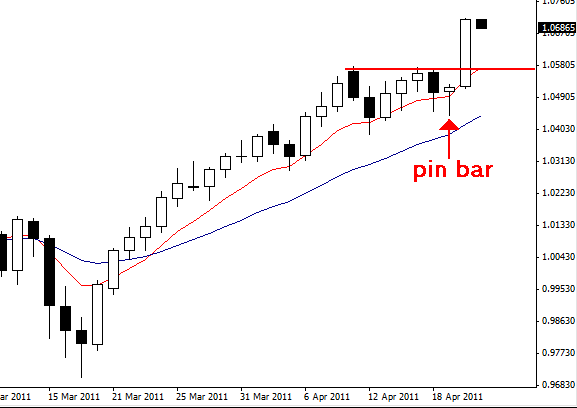 For a more in-depth analysis of the major forex currency pairs and price action analysis, please check out my Forex trading education website.
Other Markets:
On Wall Street today U.S. stocks had their best day in a month on the back of big earnings surprises which injected a fresh dose of positivity into investor sentiment.
The Dow added 186.79 points, or 1.52 percent, the S&P 500 gained 17.74 points, or 1.35 percent, and the Nasdaq added 57.54 points, or 2.10 percent.
Upcoming important economic announcements: 4/21/2011
4:00am EST: Euro-zone – German Ifo Business Climate
4:30am EST: Britain – Public Sector Net Borrowing
4:30am EST: Britain – Retail Sales m/m
8:30am EST: United States – Unemployment Claims
10:00am EST: United States – Philly Fed Manufacturing Index