Forex Commentary:
The dollar had been in positive territory during Asian trading hours, which analysts attributed to sliding commodity prices.
Against the Japanese yen, the dollar slipped 0.6% to ¥80.61.
The Australian dollar fell further from a nearly three-decade high of US$1.1012; it was last at US$1.0743, down 0.9 percent. The Canadian dollar also fell, pushing the greenback 0.5 percent higher at C$0.9573
Trading Setups / Chart in Focus:

EURUSD
The EURUSD is looking increasingly indecisive as we can see the last five trading days price has moved sideways.
Note all the upper and lower tails on the last five daily candles; this indicates indecision and this market could really break either way soon. We are in "hurry up and wait" mode right now and prefer to see some more obvious price action and which way this market breaks before entering a position.
Whilst we don't typically trade counter-trend pin bars, note how well the large bearish pin bar from April 25th has worked out. Yes, it is hindsight, but this pin bar has come off huge to the downside and this market is in crash-mode.
We see support near $36.70; traders could watch this level for bullish price action trading setups and a potential opportunity to buy the dead-cat bounce.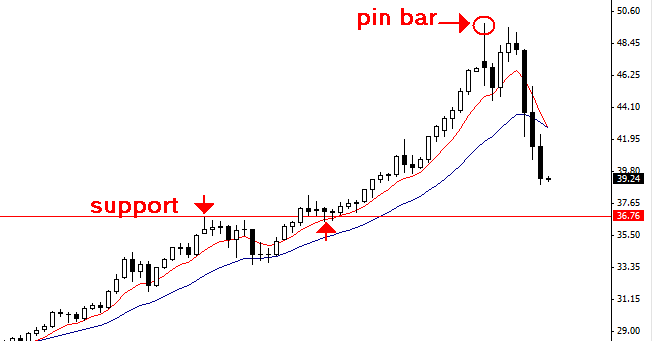 For a more in-depth analysis of the major forex currency pairs and price action analysis, please check out my Forex trading training website.

Other Markets:
On Wall Street today stocks fell lower for a third day in a row as investors' anxiety over the extensed rally was heightened on the back of weak economic figures.
The Dow dropped 83.93 points, or 0.66 percent, the S&P 500 lost 9.30 points, or 0.69 percent, and the Nasdaq lost 13.39 points, or 0.47 percent.
Upcoming important economic announcements: 5/5/2011
4:30am EST: Britain – Services PMI
7:00am EST: Britain – Asset Purchase Facility
7:00am EST: Britain – Official Bank Rate
Tentative: Britain – MPC Rate Statement
7:45am EST: Euro-zone – Minimum Bid Rate
8:30am EST: Canada – Building Permits m/m
8:30am EST: Euro-zone – ECB Press Conference
8:30am EST: United States – Unemployment Claims
9:30am EST: United States – Fed Chairman Bernanke Speaks
10:00am EST: Canada – Ivey PMI
9:30pm EST: Australia – RBA Monetary Policy Statement