Forex Commentary:
The U.S. dollar soared nearly 2.0 percent against the euro on Thursday as concerns about a global economic slowdown, reflected in a slump in commodity markets, prompted investors to flee risky assets and high-yielding currencies and seek refuge in the greenback.
The slide in commodities also hurt currencies from commodity exporting countries such as Australia and Canada. The Australian dollar fell 1.4 percent to US$1.0568 after rising above $1.10 earlier this week, its highest level in nearly 30 years.
Against the yen, the U.S. dollar fell below 80 yen for the first time since March 18, the day central banks intervened to weaken the Japanese currency after it hit a record high.
Silver prices are set for their biggest weekly decline in nearly 30 years.
Trading Setups / Chart in Focus:
EURUSD
The EURUSD lost significant ground today as the counter-trend pin bar that formed yesterday came off to the downside.
We can see that price came to rest right at a support area near the 21 day EMA today, should the decline continue we aren't seeing much support below the 21 day EMA until about 1.4250.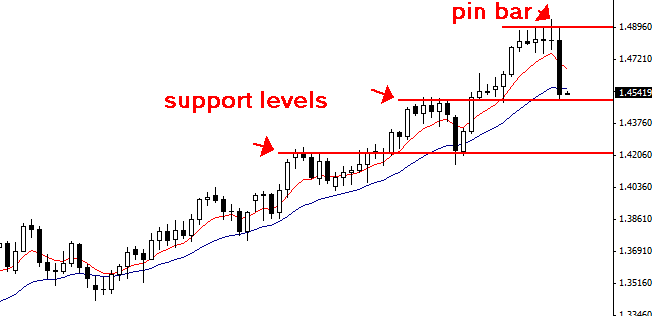 For a more in-depth analysis of the major forex currency pairs and price action analysis, please check out my forex trading course.

Other Markets:
On Wall Street today stocks fell for a fourth consecutive day as a massive sell-off in commodities put selling pressure on other markets, forcing investors out of riskier assets and rattling the equities market in front of Friday's payrolls data.
Oil suffered the biggest one-day price drop ever for the Brent futures contract, which lost 8.6 percent to settle at $110.80 per barrel.
The Dow dropped 139.41 points, or 1.10 percent, the S&P 500 lost 12.22 points, or 0.91 percent, and the Nasdaq lost 13.51 points, or 0.48 percent.
Upcoming important economic announcements: 5/6/2011
4:30am EST: Britain – PPI Input m/m
5:30am EST: Britain – BOE Gov King Speaks
7:00am EST: Canada – Employment Change
7:00am EST: Canada – Unemployment Rate
8:30am EST: United States – Non-Farm Employment Change
8:30am EST: United States – Unemployment Rate