Forex Commentary:
A strong U.S. jobs report gave the dollar a lift Friday, while a report from a German newspaper saying Greece could withdraw from the euro bloc drove that currency lower — although some analysts were skeptical about how realistic such a scenario was.
The bump up follows a long decline for the dollar, which hit multi-year lows against several currencies earlier this week.
The dollar has fallen because of the Federal Reserve's signals that it will keep rates low for at least the next few months in order to support the economy.
In other trading Friday, the dollar rose to 80.58 Japanese yen from 80.19 yen, while the British pound traded at $1.6370 from $1.6379, coming off its earlier highs above $1.64. The dollar gained to 0.8787 Swiss franc from 0.8704 Swiss franc and was worth 96.92 Canadian cents from 96.90 Canadian cents.
Trading Setups / Chart in Focus:
EURUSD
The EURUSD lost significant ground again today, the pair sliced right through support near 1.4500, losing about 183 pips over yesterday's close.
We can see the next support level comes in near 1.4250, we will watch for price action setups near this level into next week.
The AUDUSD gained back some of yesterday's large losses today. If the rotation lower continues next week we see support near 1.0575 and then near 1.0400.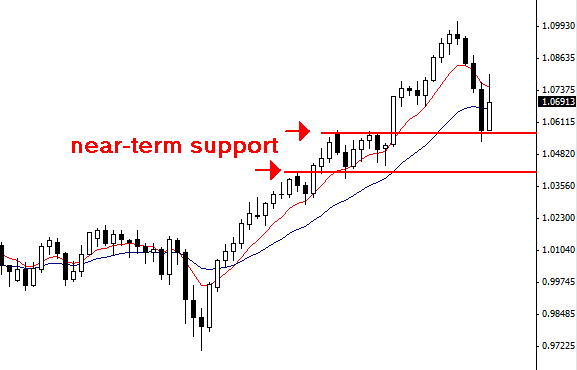 For a more in-depth analysis of the major forex currency pairs and price action analysis, please check out my price action forex trading course.

Other Markets:
On Wall Street today stocks rallied on the back of an unexpectedly strong report on U.S. payrolls, this came after four consecutive days of losses for the major indexes.
The Dow added 54.64 points, or 0.43 percent, the S&P 500 gained 5.10 points, or 0.38 percent, and the Nasdaq added 12.84 points, or 0.46 percent.

Upcoming important economic announcements: 5/9/2011
9th-14th: Britain – Halifax HPI m/m
8:15am EST: Canada – Housing Starts
9:30pm EST: Australia – Trade Balance