Forex Commentary:
The euro lost nearly 1 percent to the U.S. dollar today over disagreements on how to handle debt problems in Greece and ahead of a Spanish regional election.
The euro also fell against the yen EURJPY to trade 0.7 percent lower at 115.96 yen, although it stayed well above a recent two-month low near 113.40 yen.
The dollar recovered earlier falls to trade up against a basket of currencies .DXY, 0.3 percent higher at 75.360, though it stayed below a recent peak of 76.00 struck earlier this week. The dollar was flat against the yen at 81.58 yen
Trading Setups / Chart in Focus:
EURUSD
The EURUSD fell lower today after running into the dynamic resistance area between the 8 and 21 day EMAs.
Momentum has clearly turned bearish over the last two and a half weeks. Support is coming in near 1.4050, this level will prove significant next week, price will need to penetrate this level to open up the door for another leg lower. As usual, we will update the commentary next week with any obvious price action trading setups that may occur in the EURUSD or any of the other majors.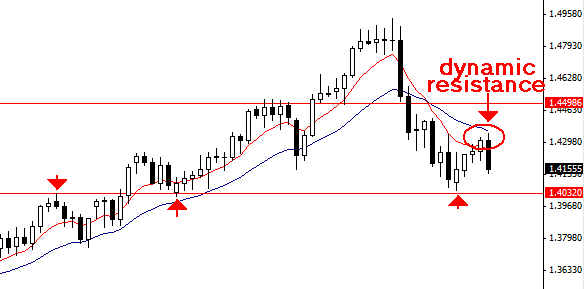 For a more in-depth analysis of the major forex currency pairs and price action analysis, please check out my Forex trading training website.
Other Markets:
On Wall Street today stocks lost ground on the back of worries that euro-zone debt problems could kick off next week's trading with a bearish tone. Retailers lost ground today after a weak profit outlook from Gap.
The Dow was down 93.28 points, or 0.74 percent, the S&P 500 lost 10.33 points, or 0.77 percent, the Nasdaq lost 19.99 points, or 0.71 percent.

Upcoming important economic announcements: 5/23/2011
All Day: Canada – Bank Holiday
11:00pm EST: New Zealand – Inflation Expectations q/q