Forex Commentary:
Intensifying worries about the debt crisis in Europe are helping stir up demand for the U.S. dollar.
The euro skidded to $1.4060 in late trading Monday in New York from $1.4201 late Friday. The euro had dipped below $1.40 earlier in the day for the first time since March.
The British pound fell to $1.6119 from $1.6276. The dollar rose to 81.97 Japanese yen from 81.57 yen.

Trading Setups / Chart in Focus:

EURUSD
The EURUSD punched through support near 1.4050-1.4000 today, however it did manage to close the day up off its lows. Currently price is sitting right at support, if we continue to see this market roll over we could see a decline into the next support level near 1.3850. Any rallies to value near the 8 or 21 day EMA dynamic resistance areas could be selling opportunities pending confirmation from price action strategies.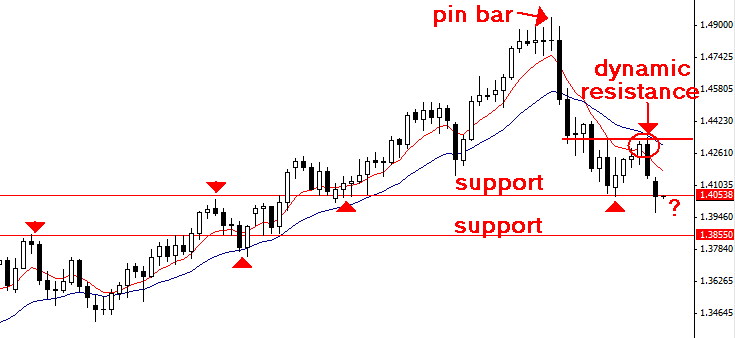 USDJPY
The USDJPY formed a fakey today after breaking lower and then rejecting the 8 and 21 day EMAs to close the day higher and above Friday's inside bar. There isn't much resistance until about 84.00, so we could get a larger move if price pushes higher off this bullish fakey setup.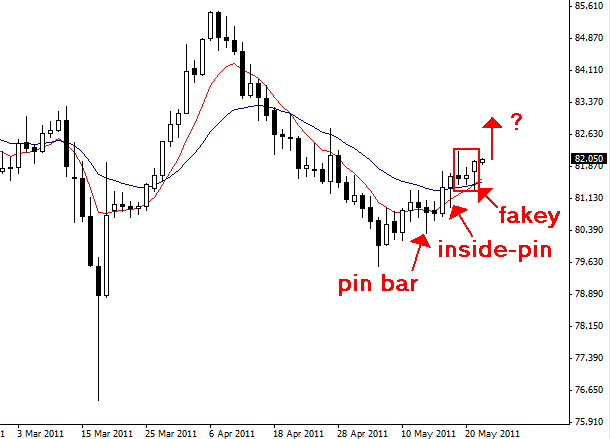 For a more in-depth analysis of the major forex currency pairs and price action analysis, please check out my price action forex trading website..
Other Markets:
On Wall Street today U.S. stocks closed at their lowest levels in a month on the back of increasing concerns about whether or not equity markets can remain strong through recent weakness in global manufacturing and demand.
Investor anxiety was further fueled by the drama surrounding the euro-zone's debt crisis, commodities, the euro and stocks all suffered as a result.
U.S. crude futures ended more than 2 percent lower on Monday, dropping below $100 a barrel once more as euro-zone debt worries pulled down the euro against the dollar and on news of slower manufacturing growth in China and Europe.
The Dow lost 130.78 points, or 1.05 percent, the S&P 500 lost 15.90 points, or 1.19 percent, and the Nasdaq dropped 44.42 points, or 1.58 percent.

Upcoming important economic announcements: 5/24/2011
4:00am EST: Euro-zone – German Ifo Business Climate
4:30am EST: Britain – Public Sector Net Borrowing
10:00am EST: United States – New Home Sales