Forex Commentary:
Trading was very light in the currency markets today due to holidays in the UK and the United States.
The euro eased on Monday, pulling away from a key chart resistance as uncertainty over how Greece's debt crisis will be tackled kept investors on edge, while the dollar stabilized following a slide late last week.
While worries about the risk of a debt restructuring by Greece cast a cloud over the euro, a recent run of weak U.S. economic data and a drop in U.S. Treasury yields were weighing on the dollar, traders said.
"Data in the U.S. is showing growth is losing momentum and that has supported speculation of another round of quantitative easing," said Manuel Oliveri, currency strategist at UBS. "For the dollar to turn around there has to be a change in interest rate expectations in the U.S. That's unlikely in the near term."
Trading Setups / Chart in Focus:
EURUSD
The EURUSD remained unchanged on Monday due to light trading volume because of the U.K. and U.S. bank holidays. However, we are seeing resistance coming in close overhead around 1.4350, and then further above at 1.4500. Support is seen near 1.4050-1.4000. If price can break out above 1.4350 we could get a push higher towards 1.4500 this week. We will wait and see if any obvious price action setups develop the rest of this week.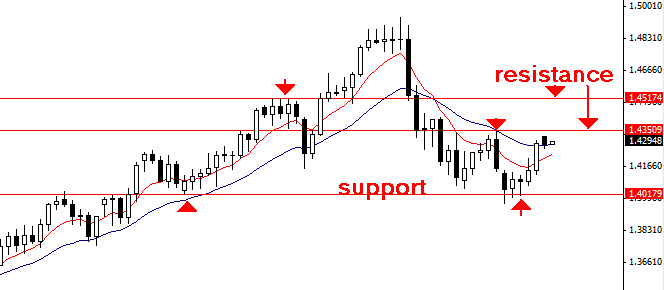 For a more in-depth analysis of the major forex currency pairs and price action analysis, please check out my Forex trading education website.
Other Markets:
Markets were closed in the U.S. today due to Memorial Day. Modest gains on both Thursday and Friday of last week helped the major indexes cut weekly losses.
The Dow lost 0.6% for the week to end at 12,441.58, and the S&P 500 lost 0.2% to end the week at 1,331.10, marking four straight losing weeks for both exchanges.
The Nasdaq lost 0.2% for the week, closing at 2,796.86, marking two consecutive losing weeks for the index.
Upcoming important economic announcements: 5/31/2011
9:00am EST: Canada – BOC Rate Statement
9:00am EST: Canada – Overnight Rate
10:00am EST: United States – CB Consumer Confidence
9:00pm EST: China – Manufacturing PMI
9:30pm EST: Australia – GDP q/q