Forex Commentary:
The euro hit a one-month high against the dollar on Thursday after Moody's Investors Service said there is a very small but rising risk of a short-lived default by the United States if there is no increase in the statutory debt limit in coming weeks.
Moody's said in a statement that if there is no progress in increasing the debt limit, it would expect to place its Aaa sovereign credit rating on review for a possible downgrade.
"The euro is rallying as comfort over a near-term outcome for Greece improves and the market refocuses on problems in the U.S. economy," said Camilla Sutton, chief currency strategist at Scotia Capital in Toronto. "A key psychological level is $1.45. The euro and dollar are in an ugly dog contest and the euro is winning right now."
The dollar index .DXY was down 0.5 percent at 74.326 after earlier falling to a one-month low of 74.228. The dollar was little changed at 80.88 yen

Trading Setups / Chart in Focus:
EURUSD
The EURUSD shot higher today as the U.S. dollar weakened across the board against the majors on the back of concerns on the U.S. debt limit.
We can see price is currently sitting near resistance at 1.4500, price will need to break above this level to continue its recent ascent, otherwise we could see a rotation lower back towards the support of the 8 / 21 day EMAs.
There is nothing to do in this market until we get a clear price action signal with confluence of levels.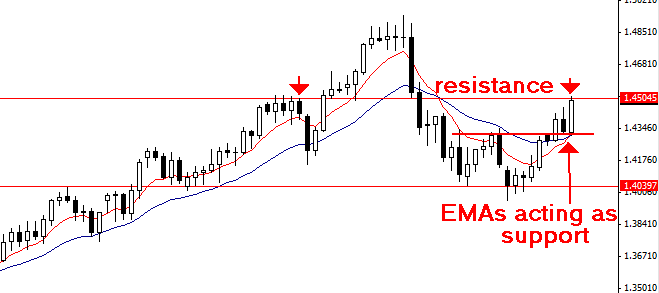 Check out my newest article: Why Do Most Forex Traders Lose Money?
Other Markets:
On Wall Street today stocks closed a volatile trading day largely unchanged as investors remain cautious in making bets a day before the critical labor market report released each month.
Friday's non-farm payroll report is expected to show 150,000 jobs were added in May, according to a Thomson Reuters poll of economists. Wednesday's weak reading by ADP on private payroll growth
prompted many economists to scale back forecasts, sparking the stock market's worst day in nearly a year.
The Dow lost 41.59 points, or 0.34 percent, the S&P 500 lost 1.61 points, or 0.12 percent, and the Nasdaq rose 4.12 points, or 0.15 percent.

Upcoming important economic announcements: 6/3/2011
4:30am EST: Britain – Services PMI
8:30am EST: United States – Non-Farm Employment Change
8:30am EST: United States – Unemployment Rate
10:0am EST: United States – ISM Non-Manufacturing PMI