Forex Commentary:
The dollar edged higher against the euro after a German official raised doubt that Greece would get additional aid. In afternoon trading Monday in New York, the euro fell to $1.4575 from $1.4633Friday.
Earlier in the day the euro hit its highest level in a month at $1.4657. But the euro quickly retreated after a German finance ministry spokesperson said that another bailout for Greece wasn't certain, unnerving investors, according to UBS currency strategist Chris Walker.
In other trading Monday, the British pound fell to $1.6352 from $1.6418, while the dollar fell to 80.13 Japanese yen from 80.26 yen.
The dollar edged up to 0.8368 Swiss franc from 0.8362 Swiss franc and rose to 98.06 Canadian cents from 97.73 Canadian cents.
Trading Setups / Chart in Focus:
EURUSD
The EURUSD fell modestly lower today, showing some rejection of higher prices with a small bearish upper-shadow rejection bar. We could see a rotation back to value near the 8 / 21 day EMAs before (if) price resumes higher. We can see support and resistance marked below. Support comes in near the 8 / 21 day EMAs and also at the horizontal level of 1.4350.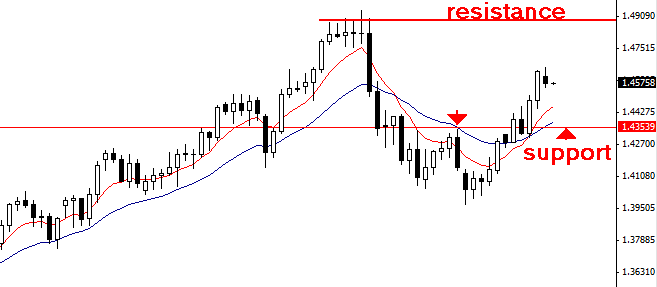 GBPUSD
The GBPUSD is currently moving sideways. We can see a clear area of resistance near 1.6500 and support near 1.6300 that the pair is currently "stuck" between. Traders should keep a close eye on these two levels as they are currently containing price.
There isn't much to do at the current moment as trend bias is choppy, you can learn more about identifying trend bias here.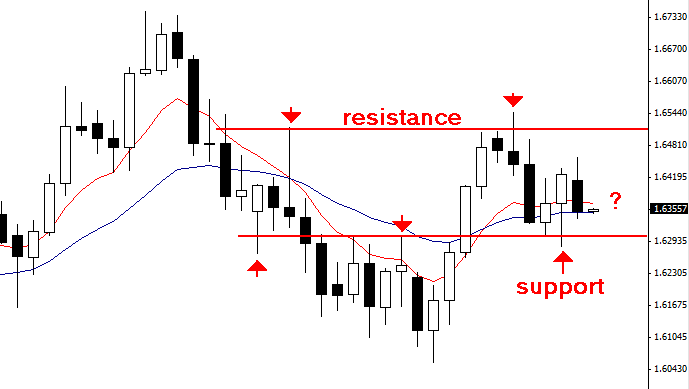 For a more in-depth analysis of the major forex currency pairs and price action analysis, please check out my Forex trading education website.
Other Markets:
On Wall Street today stocks extended last week's losses with the S&P 500 hitting its lowest level since March 18. A recent bout of weak U.S. data has given support to a bearish sentiment amongst investors.
The Dow dropped 61.15 points, or 0.50 percent, the S&P 500 lost 13.99 points, or 1.08 percent, and the Nasdaq dropped 30.22 points, or 1.11 percent.
Upcoming important economic announcements: 6/7/2011

12:30am EST: Australia – Cash Rate
12:30am EST: Australia – RBA Rate Statement
3:45pm EST: United States – Fed Chairman Bernanke Speaks
9:30pm EST: Australia – Home Loans m/m